2023 Eating out with Food Allergies in Malta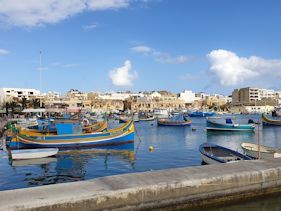 It's been a while. Believe it or not we last visited Malta in 2019 so we were keen to return and discover what's new. Overall, eating out with gluten and dairy intolerances wasn't too difficult, but you always have to be on your guard and forever vigilant when travelling. For example, we forgot to mention Ray's daily free intolerance at one restaurant where we had dined previously with the same waiting staff, so were surprised when he was given tzatziki, which contains yogurt. When we handed it back to them, saying he was unable to eat dairy, our server was horrified and removed the entire dish because it had dairy in it. It was our slip up and their response was spot on. So you can never relax and be complacent. You have to keep reiterating your dietary requirements with staff.
Breakfast at the airport
After an early start, we were delighted to chance upon The Commission https://www.drakeandmorgan.co.uk/the-commission/ at London's Heathrow Airport where we indulged in breakfast. The menu usefully has symbols for gluten free and vegan (meaning the dish is dairy free as well) which helped us navigate our way round. Ray explained his dairy intolerance and that he was unable to eat tomatoes, so he was able to have bacon and beans on toast – without butter. Our server understood straight away and was able to advise him accordingly. I had avocado on gluten free toast with salad and edible flowers. The food was well presented – Ray's sandwich was filled generously with bacon and the beans were on the side in a saucepan-like dish. We wonder if there are any other branches as we would definitely eat here again.
It was our first flight for three years so that in itself was a novelty. Apart from the popping of ears and a screaming child, the Air Malta flight was smooth and staff attentive when we asked for the temperature to be lowered. On board, there wasn't much to eat, not that we needed anything! We've learnt to either eat beforehand or take food with us. There was a vegan lasagne available, as well as Real Eat hummus chips – tomato and basil (dairy free and gluten free) and Kinnie, Malta's signature soft drink, which Ray enjoys.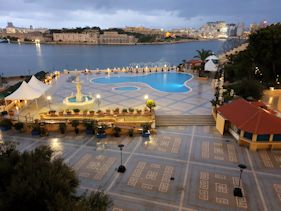 Hotel buffet
We normally go self-catering, but on this occasion we returned to the Grand Excelsior Hotel. By about day three or four, the staff start to recognise us and our dietary needs. Soya milk wasn't a problem. When I asked for gluten free bread it arrived on a plate with a bowl of cereal and a pack of four digestive biscuits. On my last day, the chef delivered it!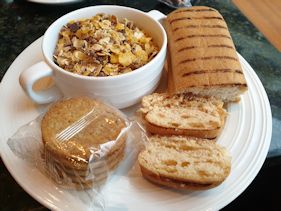 The gluten free bread was doughy and pappy with no flavour like damp cotton wool, but it was transformed when toasted and spread with orange marmalade. This wouldn't work for everyone as there isn't a separate toaster on the buffet for gluten free bread.
Ray, who is dairy free, chatted with the chef who happened to be attending the buffet, about what he could eat. Although the food was labelled, the ingredients were not listed so it was impossible to tell if there was dairy in it. Unfortunately the chef was unable to tell Ray about some of the food such as sausages. He was told "I buy them in but I don't know what the ingredients are".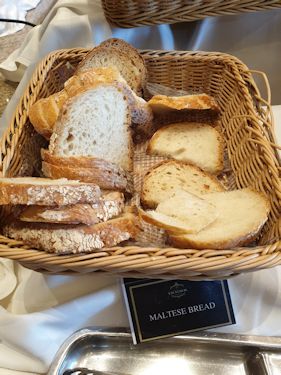 Happily he was able to produce packaging for Maltese bread and confirmed it had no dairy in it. A member of staff checked cereal packets and we concluded that Ray could have cornflakes or bran flakes.
Intolerances aside, the bacon was impossible to cut and inedible so I gave up on that. Ray's theory was if the bacon was left on the hot plate too long, it went hard, so on some days he was able to eat the bacon if he lucked upon a fresh batch.
One of our favourite hang outs in Valletta was Costa Coffee in the Embassy Complex. It's very popular with digital nomads as it's a very relaxed space, with plenty of tables and power sockets. The complex also houses the stylish Embassy Hotel with panoramic views of Valletta from its 7th floor bar and restaurant. There's also the Embassy Cinema with six screens and comfortable sofas.
Strolling round Sliema
In Sliema we perused M&S and Matalan and was surprised that prices were so high – 40 euros for a swimsuit in the sale. We were disappointed that Café Cuba has disappeared on the front, but it has been replaced with all manner of eateries.
I had forgotten my swimsuit so we walked to The Point shopping complex, but alas the shops here are posh upmarket brands such as Max Mara and Tommy Hilfiger and not a swimsuit in sight. Note to self – always pack a swimsuit.
Through the doors on the ground floor, we came upon Rosso Pomodoro, with its outside chairs and tables. The wind was blowing and anyway the smell of cigarette smoke sent us indoors. The restaurant looked small from the outside, but inside it was roomy with an upstairs area and constantly busy.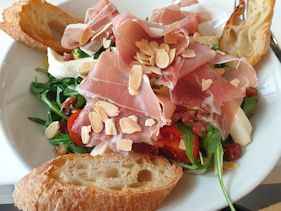 I chose a Prosciutinna Parma salad with feta cheese, sprinkled with almonds (I gave Ray the bread) and Ray ordered a pizza. He told our server he had a dairy intolerance and was advised to have the Marinara with garlic and oregano with various add ons – prosciutto, mushrooms and olives.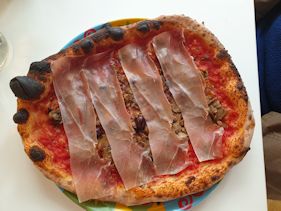 The pizza was a huge oval shaped offering. I was rather jealous. They had followed his instructions – no mozzarella and not too much tomato sauce (as he can't eat tomatoes) He said it was scrumptious. We'd definitely return here.
Costa Coffee has a wide presence in Malta and there is one on the lower level on the Point offering a vegan, gluten free flapjack – nothing else we could eat. I noticed a couple of gluten free cakes by Handmade Cakes, but they have milk in them. Hurrah – Liptons tea is no longer served. The preferred brand island-wide seems to be English Tea Shop.
At The Point you can find M&S food with a Made Without Wheat selection. There's also the Euro Spar supermarket in the basement with a wide choice of "free from" foods including milks.
Valletta Food Market
That evening we headed for Valletta Food Market in Merchant Street. This is good news for people like us as we can view the vendors' stalls and see exactly what food is on offer. Menus are well displayed with ingredients listed, but we always doublecheck with the vendors.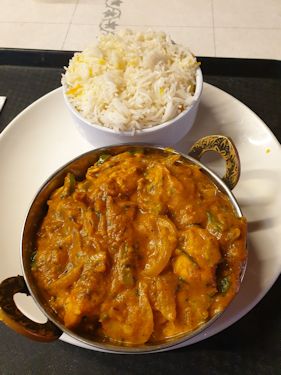 One of our favourites was The Everest serving Nepalese and Indian cuisine. I ordered Chicken Karathi (12 euros) cooked with onions, tomatoes and green peppers in a traditional thick sauce. Yummy!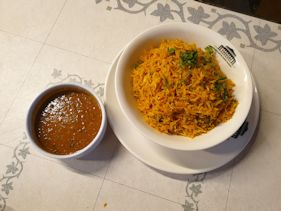 Ray had Lamb Biryani (14 euros) - a huge amount of yellow rice with large chunks of meat. The portions are huge (we could easily have had one meal between two, so we made that the rule for the rest of our holiday). We asked for mild dishes and they followed our request.
We dined out at a different stall most nights and they all seemed to be well aware of allergies and intolerances. Another plus is that the food is inexpensive compared to a traditional sit down restaurant. When you order, most vendors give you a device which lights up and vibrates when the meal is ready for collection. Apart from anything, it's a fun way to eat! You then collect it and enjoy. Members of staff clear away the trays.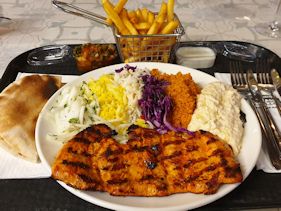 The Konak stall serves a selection of grilled meats and kebabs. One evening we opted for grilled chicken breast and an impressive spread of salad accompaniments, which we ate between us because the portions were huge (13.35 euros)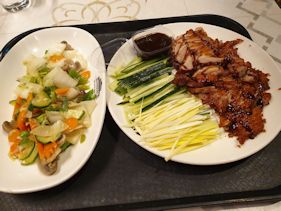 Another night, at The Dragon Stall at Valletta Food Market, we ordered half a duck, mixed sautéed veg and spring rolls (I didn't eat the pancakes). Truly delicious. The duck, plum sauce and cucumber was a flavoursome combination, the crispiness of the cucumber merging with the rich flavour of duck. Altogether 28 Euros. Again a huge portion so we know not to order the spring rolls next time. No wonder so many people ask for doggy bags!
We gave up on the pasta stall as we were told gluten free pasta takes 30 minutes to cook. Curious when you think the gluten free pasta I cook takes 12 minutes!
The bar is split into two – one side hot beverages and soft drinks; the other alcohol. I opted for La Torre Chardonnay white wine and Ray had Kinnie of course!
The only "down" side to Valletta Food Market are the toilets which are too small, inadequate and unloved.
Supermarkets in Valletta
Valletta is poorly served for supermarkets, but Valletta Food Market does have one downstairs where you can find "free from" food including alternative milks. In addition, there's The Wembley Store, Republic Street, Valletta which sells a limited amount of free from foods.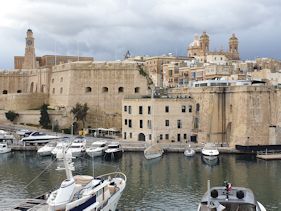 Three Cities
We took the ferry from Valletta to The Three Cities, which was a great experience (cost 1.50 euros?). Vittoriosa, Senglea and Cospicua, in the heart of Malta's historic centre, directly across the Grand Harbour from Valletta. The term "cities" is misleading as none of the three is much bigger than a village. The golden stone buildings of Vittoriosa's waterfront are spectacular and it's no wonder that many movies have been filmed here such as "Cut Throat Island". We wanted to visit the Maritime museum, but unfortunately it was closed!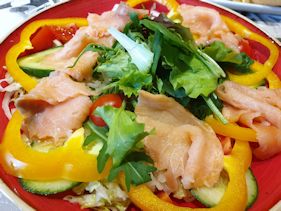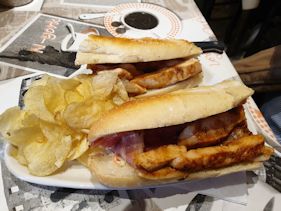 We walked up the back streets until we reached the square. After looking at several restaurants, we dined at Il-Girbi Bar & Restaurant, La Vallette Street. I had a smoked salmon salad and Ray a baguette of chicken and bacon with coleslaw, so he had to check with staff that the coleslaw didn't contain dairy (some home-made ones do). The waitress assured him it was just mayonnaise – her daughter is lactose-intolerant so she knows how important this is. It is interesting how often we come across staff who have direct experience of allergies.
On the way back, we took the "Barrakka Lift" from Three Cities Ferry to Upper Barrakka Gardens, Valletta. For only 1 euro, we enjoyed panoramic views of the city.
Mdina – the Silent City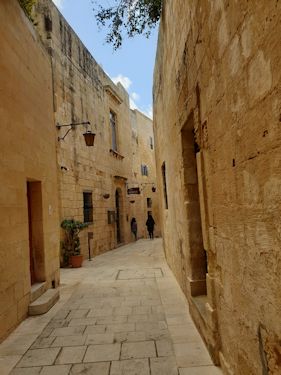 Our original plan was to go to Ta'Qali Crafts Village, but surprisingly it was shut on Sundays (more of that later) so we took bus (52 or 55, C2 zone) from Valletta to Mdina.
Mdina, known as the Silent City, dates back 4,000 years. It's one of Europe's finest examples of an ancient walled city with its mix of medieval and baroque architecture. We heard that part of the new "Napoleon" film was filmed here. Directed by Ridley Scott, the movie stars Joaquim Phoenix and is due to be released on Apple TV.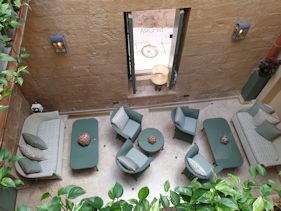 Many of the attractions were closed on Sunday but we enjoyed exploring the narrow streets and by chance spotted an elegant building "Palazzo Biforna" where a man and woman were seated in a stylish peppermint green lounge with Lloyd Loom furniture. As I entered I asked "Is this a hotel?" to which they said "Yes it's a new six room boutique hotel". We were shown a couple of rooms beautifully decorated with every little detail taken care of such as hand-made toiletries. On the roof is a heated swimming pool and a view of Mdina across the roof-tops. The restaurant will open in a few weeks' time. This is good news as eateries are in short supply in Mdina.
We did find Fontanello Tea Garden which is built into the city walls. It was full with people queuing for the upper level with panoramic views. We didn't try for a view as there was a table in the sunshine – yes it did briefly shine! After explaining his dairy intolerance, Ray was reduced to ordering a ham and lettuce sandwich but it wasn't easy for him to find anything he could eat. I stuck to chicken salad with freshly cooked chicken breasts, avocadoes, tomatoes and feta cheese.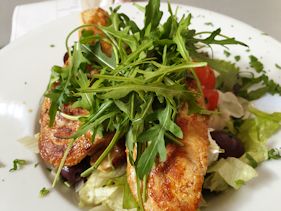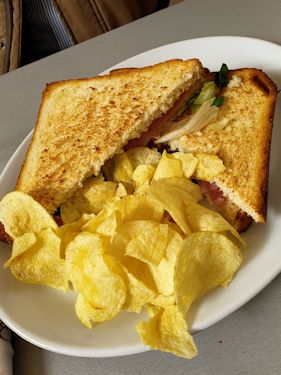 Ta'Qali Crafts Village
We took the 56 (A6 bus zone -only one an hour0 from Valletta to Ta'Qali Crafts Village (getting off at the Villagg stop) as we wanted to visit Malta Aviation Museum. We had visited the crafts village before, but hardly recognised it as all the Nissan huts had vanished and in their place were smart shops. We visited Valletta Glass and watched glass blowers at work. We admired the array of items made out of olive wood at "The Olivewood" shop – cutting boards, sculptures, spoons and so on.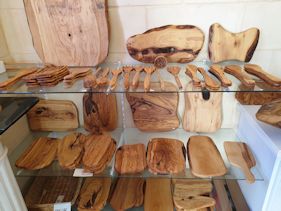 Malta Aviation Museum isn't publicised enough as whenever we visit there are no visitors! Mind you the entire crafts village was deserted due to the redevelopment project. A sign announced a massive complex of food and drink, ceramics and objects d'art is under construction. They have a long way to go. The huge area adjacent to the museum is a giant building site so it made it difficult to get to the museum, as there were huge lorries driving in and out. According to the Aviation Museum, this will be a car park for the Football Stadium.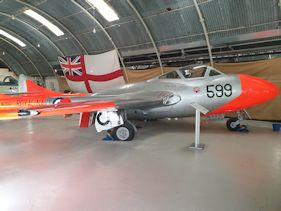 The aircraft collection was smaller than we recalled but didn't fail to disappoint. The museum has several hangars, one of which was going to be a venue for a party as a team of people were putting up screens and various other effects as the floor was covered with cables, which we had to step over. Just hope the aircraft aren't damaged.
The only refreshments available were vending machines, but we were guided to the national stadium home for Malta FA to "Trophies" café on the second floor, where we had parma ham, salad and chips. Looking out at the impressive stadium and its enormous pitch, we watched one solitary man mowing the grass walking up and down. Wonder how long it will take him to mow the entire area?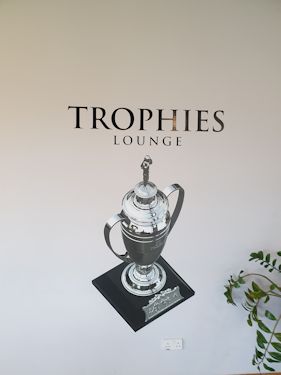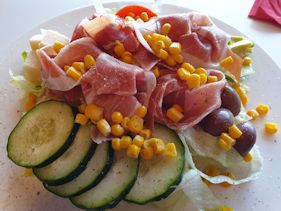 Getting the bus back was problematic as we weren't sure where the stop was. We checked with a guy who assured us we were at the right one, but then the 56 approached and drove right past despite our waving at it! The guy said "Don't worry, he'll turn round and come back". Not sure where he turned round, but the bus did return in several minutes and actually stopped!
Marsaxlokk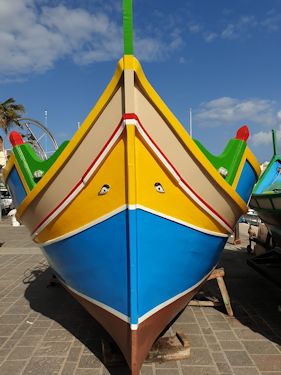 We've always loved visiting this fishing village, with its colourful Luzzu fishing boats, but it was disappointing to find the picturesque bay is being ruined by the encroaching industry. First to spoil the view was the power station, then LPG and Jetty tankers and now an array of giant cranes (The adjacent Pretty Bay lost its shine in the same way).
If you turn your back, you can take pictures across the bay towards the town, giving an effect of "unspoiled beauty". Even so, the buildings, the colourful fishing boats, the markets and restaurants still make it a worthwhile visit.
Unfortunately, the weather wasn't great when we visited, but we did manage to enjoy a delicious fish lunch at Pisces Restaurant.
Vegan and gluten free scones
The highlight on our last day was the discovery of vegan and gluten free scones at the Phoenician Hotel, Valletta. These were beautifully served with strawberry preserve and coconut whipped cream. Heavenly! The hotel also offers vegan and gluten free afternoon teas consisting of several courses. We will be back!
Visit Malta Tourist Board for more information.