British Pie Awards and Melton Mowbray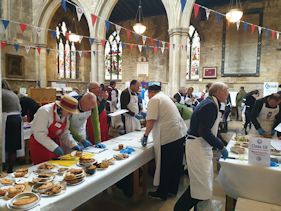 "Look out for soggy bottoms". That was the advice I was given when judging the 'free from' category of the British Pie Awards. I was tasting 21 different pies, but fortunately not many of them had soggy bottoms. I was judging with industry expert Colin Rich from The Pastry Room, specialists in gluten free products for restaurant and manufacturers.
The judging was held in St Mary's Church in Melton Mowbray, famous for the Melton Mowbray pork pie and as the centre of stilton cheese production. I only just made it after a difficult journey in snowy conditions. Unfortunately the heating in the church wasn't working so I kept my coat on throughout! As you looked round, the church was full of long tables with pies lined up along them.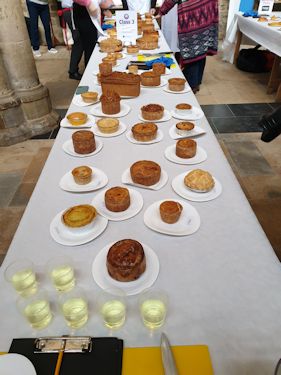 The pies were judged "blind" which means we didn't know the manufacturer. Each pie was rated as to whether it had a perfect even glaze, an even bake all over and whether the pastry was in harmony with the filling. Sometimes the description of the pie filling didn't follow through in the tasting of it. For example, one pie was described as "ham hock", but this wasn't evident in the taste. In some instances, the top was thicker than the bottom and had "boil out" – this means the filling has oozed out of the pie case. Some pies were poorly filled with a gap at the top.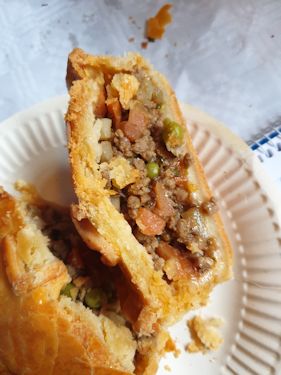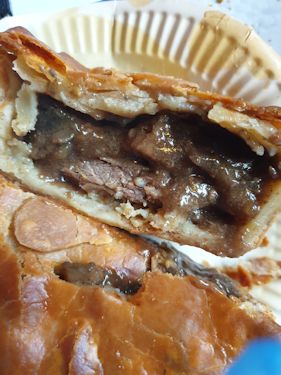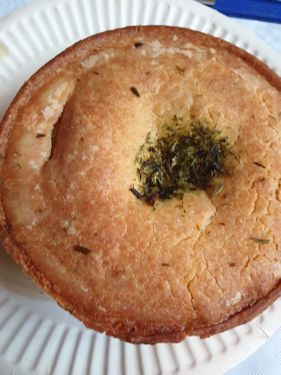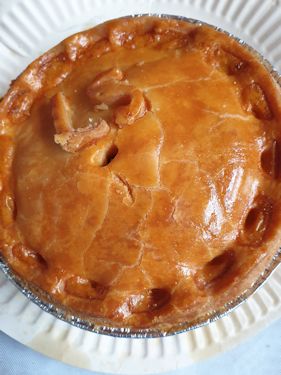 We tasted some unusual varieties of pie such as roast beef dinner, lamb samosa and cauliflower cheese. I didn't come across many pies which were both gluten free and dairy free, which was a shame. For the first time, a pasty had been entered into the category – sweet potato and mushroom.
Winner of 'Free From' Category
The overall winner of the 'free from' category was Gluten Free Chicken, Ham and Leek Pie by Mud Foods. This is made from British free range chicken and ham in a white wine and double cream sauce with buttered leeks, a hint of mustard and fresh herbs, encased in a luxury butter rich gluten free pastry. As the tasting was "blind", I don't know if I tasted it. It sounds delicious!
Supreme Champion
The overall winner of the British Pie Awards – the Supreme Champion was Moo and Blue Pie – a steak and ale pie with stilton cheese melted through the sauce by Brockleby's of Asfordby. As I am gluten free, there's no way I can eat that, although it does sounds sumptuous.
Dining out in Melton Mowbray
We were staying at Synsonby Knoll hotel, just outside Melton Mowbray which provided a friendly welcome and a comfortable two night stay. The hotel provided an excellent breakfast with gluten free cereal and bread for me and a cooked breakfast for Ray. We ate in the restaurant on both evenings and were impressed by the service and attention to detail, checking our dietary requirements and making sure we were happy with our choices.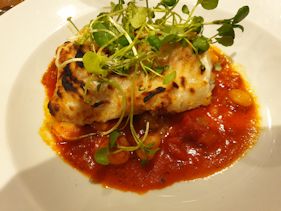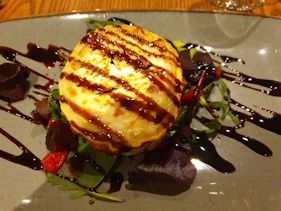 The food was appetising, well presented with generous portions.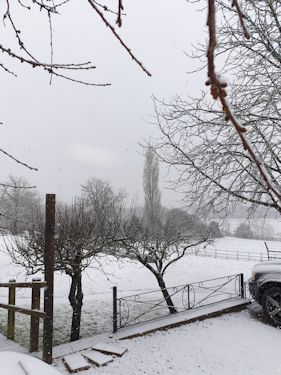 On the morning of our last day, it was snowing and there were no taxis or buses available. The hotel went beyond the call of duty when Gavin, the owner's husband drove us to the rail station.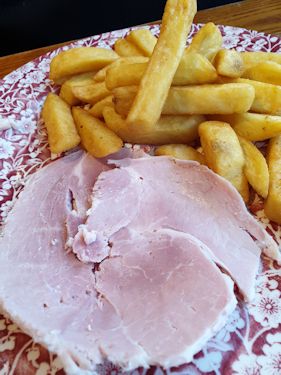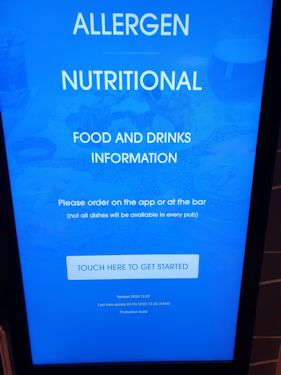 Pub lunch at J.D.Wetherspoon
As it was snowing on our one day off in Melton Mowbray, we took refuge for lunch at J.D.Wetherspoon Kettleby Cross. A member of staff showed us the touch screen allergen guide which means you can pick the menu item you'd like to eat and see whether you can eat it by applying various filters. Excellent! Ray had gammon and chips, while I had baked potato with tuna mayonnaise. We will be trying out other pubs in the chain now we know about the allergen guide!