Eating Out at Niche London - gluten free restaurant
Steak Dianne pie, Roasted pumpkin and spinach gnocchi, sausage and mash. As I scan the menu at Niche www.nichefoodanddrink.com , it's hard to believe that all these are gluten free and in some cases, dairy free too. So I can pick literally anything from the menu and know it's safe to eat.
Niche, conveniently located a few minutes' walk from Angel tube in London and next door to Sadler's Wells Theatre www.sadlerswells.com , is a 100% gluten free restaurant with the strapline "gluten free but you wouldn't know it"!
Chef Marc Warde owns the restaurant with his business partner Adrian Morgan. In 2013, they set out to serve British food with a modern twist, but early on Marc was diagnosed as coeliac so that changed the direction of the business and Niche was born. At the time it was London's first 100% gluten free restaurant and over the next six to 12 months it developed into creating dishes without dairy and other dietary options. It is London's first restaurant to be accredited by Coeliac UK, awarded Grade A for the third year in a row. Since it opened, the restaurant has won many Awards including a Gold in last year's Free from Eating out Awards https://www.freefromeatingoutawards.co.uk/
I had to keep reminding myself that every dish was gluten free. Usefully the menu carries symbols V for vegetarian, VE for Vegan and DF for dairy free. All allergens are listed clearly on every dish on the menu. As the restaurant uses nuts extensively, it can't ensure that any dish will be completely nut free. A low FODMAP menu is available.
When I visited, I met a couple who had travelled 80 miles to visit the restaurant, but this isn't unusual, says Marc.
Once Marc and Adrian decided to change and adapt the menu to gluten free, it wasn't an easy process. The aim was to create gluten free food which is so tasty that existing customers wouldn't be able to tell the difference. Marc says "We have created a bank of recipes to call our own. The best thing is that people who visit us are often oblivious that we are gluten free at all!"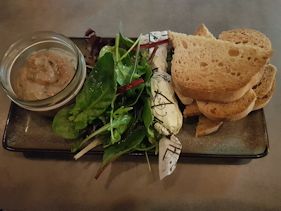 First up is a variety of starters to try. I opt for the Angel Pate (VE) a delicious combination of herb pate, toasted sourdough and whipped dairy free herb spread. The bread is outstanding – worlds away from the standard crumbling, cardboard-tasting gluten free bread.
The smoked ham hock and pea terrine (DF) served with homemade piccalilli, toasted sourdough and whipped herb spread, is tasty, while the Parmesan and Cheddar doughnuts are moist and flavoursome.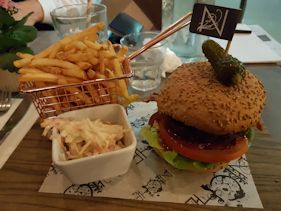 The restaurant's top seller is the Smokey Burger so I order this. Usually when you order a gluten free burger it arrives minus the bun, but not on this occasion. The burger is served in a sesame seed crispy gluten free bun so it is a real treat to enjoy the burger in a bun, with a side dish of skinny skin-on fries.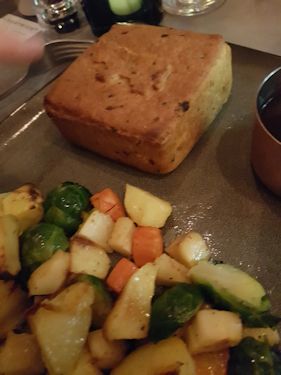 Niche's signature dish is the square-shaped Steak Dianne pie, made on the premises filled with beef, mushrooms and shallots in a rich red wine, brandy and cream sauce. This dish is exceptional, enhanced by the all butter and onion shortcrust pastry. Traditionally gluten free pastry is dry and falls apart. This pastry is moist and combines perfectly with the filling.
Marc says it took virtually two years to create a specific blend of gluten free flour which could be used to make the pie.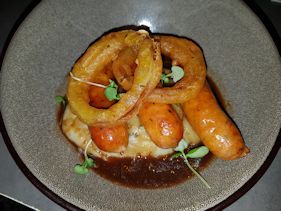 Gluten free and dairy free sausages are generally bland, but not the ones I tasted in Sausage & Mash (DF). "The Smokey" variety are made from oak smoked beef and pork, paprika, black treacle, garlic and herbs. They are succulent, spicy and have a real meaty flavour. They are served with a dairy free roasted garlic, parsley, olive and truffle oil mash, beer battered onion rings and onion gravy. Marc adds "Our sausages are made specially for us in a gluten free factory. We have to make sure all our suppliers operate in a gluten free environment."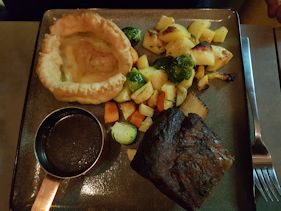 Another popular dish is the Beer Braised beef short rib (DF) served with Niche's own gluten free and dairy free Yorkshire Pudding.
As regular readers know, if you're dining out with a food allergy, desserts are always a luxury. So to see such an extensive list of choices at Niche was a real surprise.
The Vegan Queen pudding is luscious with layers of bread, custard, raspberry compute and meringue.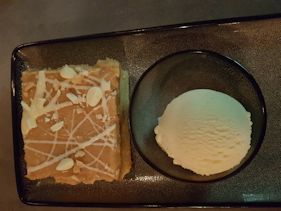 Another heavenly dessert is White Chocolate and Peanut Butter Blondie, a delicious sponge pudding topped off with vanilla ice cream.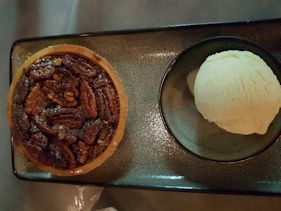 My favourite was the Pecan Pie - the pastry is mouth-watering and crisp - Marc's development work has really paid off!
Brunch is served at the weekend. Green's gluten free beer www.glutenfreebeers.co.uk is available, as well as several vegan wines.
Not surprisingly, the restaurant is very busy from Thursday to Sunday nights, so it's fantastic news that Marc and Adrian plan to open more restaurants.
They are currently looking for investors so if you or anyone you know is interested, please visit https://www.crowdcube.com/companies/niche-gluten-free-dining/pitches/qY9emq
For reservations www.nichefoodanddrink.com