Eating Out with Food Allergies in Madeira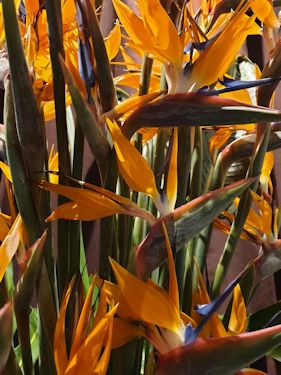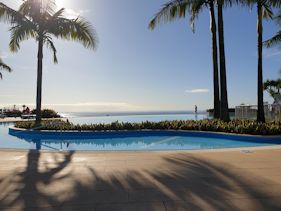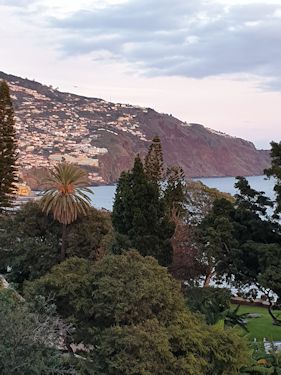 Madeira is a vibrant colourful island, full of idyllic scenery, wildlife and exhilarating views. Ray and I holidayed here some years ago, so we had no idea how easy it would be to eat out with our intolerances. I am gluten free and Ray is dairy free, although he can't eat many other foods including tomatoes and oranges – in fact anything that contains pips! Overall, we found waiting staff helpful in dealing with our dietary requirements. Eating out in Madeira is expensive, but of course it does depend on what you choose to eat. Special tourist menus may be an affordable option (depending on whether you can eat the dishes).
AIRPORT/AIRLINE NOSH
On board the easyJet www.easyjet.com/en flight to Funchal, Madeira, we were pleased to see a few vegan and gluten free dishes on the menu. Although vegan items were available, soya milk was not on offer, which seemed contradictory. For the outward flight, we'd brought our own food, so didn't have to worry.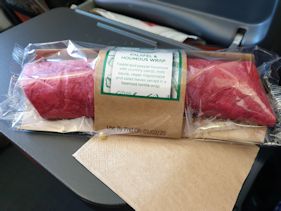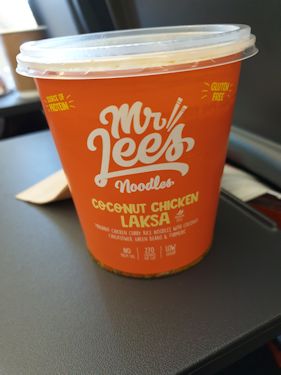 It was a different story on the flight back – at Funchal Airport, we were unable to find anything we could eat. Virtually all food was a sandwich or pastry-based (no good for me) or all had cheese as a main ingredient (no good for Ray). Veganism and gluten free eating hasn't arrived at Funchal Airport then. There was a grotty looking salad and bags of crisps if you were desperate. So remembering easyJet's offerings, we decided to try them. Ray enjoyed the vegan Falafel & Houmous Wrap (£4.50) from Supplair UK in a beetroot tortilla wrap. I tasted for the first time Mr Lee's Chicken Laksa Noodles www.mrleesnoodles.com which is gluten free. It was delicious so I'll look out for it in supermarkets. Looking at the ingredients, it is also dairy free. We shared Corkers Sea Salt Crisps www.corkerscrisps.co.uk Heineken www.heineken.co.uk zero alcohol beer was on offer which Ray enjoyed.
USEFUL PHRASES
It's always useful to write down these phrases and show them to the waiting staff before ordering.
Eu tenho alergia gluten
I have an allergy to gluten
Eu tenho alergia leite, manteiga, queijo
I have allergies to milk, butter and cheese
TAKING POT LUCK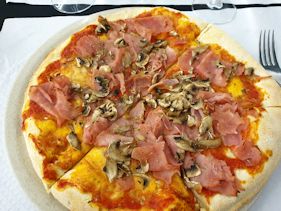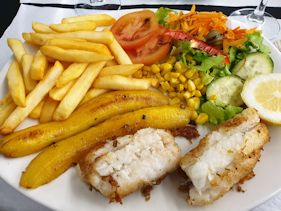 On our first night, exhausted and hungry, we walked into Funchal town centre in search of a suitable restaurant. We also needed to buy soya milk so were looking out for a supermarket. We saw a "Spar" sign in the Marina Shopping Centre and although we followed the signs, we couldn't locate the supermarket but by chance, we found La Carbonara restaurant www.facebook.com/la-carbonara-Infante , full of locals. This is primarily a pizzeria (no gluten free pizzas) so I opted for the one of Madeira's specialities – scabbard fish with banana with French fries and salad. I showed the staff the piece of paper detailing our intolerances. He immediately said the fish is fried in breadcrumbs, so they would grill it. As it turned out, this was one of my favourite dishes and I ate it a lot (as you will discover). Ray ordered a pizza (after checking the base didn't contain milk) and they tailored the topping for him – mushrooms, garlic, ham and oregano (no mozzarella). My fish was delicious, but Ray was disappointed with his pizza. At the end of the meal we were served complimentary passionfruit liqueur, a refreshing drink with a kick to it. As it turned out, several restaurants presented us with free liqueurs – one wondered what the criteria were – some did, some didn't.
ACCOMMODATION AND BREAKFAST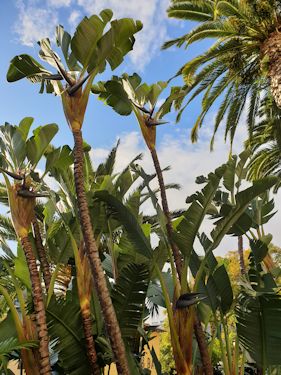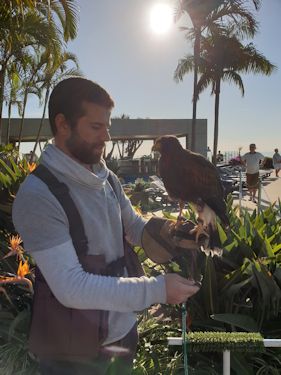 We were staying at the Pestana Casino Park hotel, https://www.pestana.com/uk only a short walk away from Funchal town centre. This is a vast, sumptuous hotel with beautiful grounds and lots of exotic plants – clivia, strelizas (birds of paradise), hibiscus growing everywhere. A bird handler patrols the grounds everyday with a Harris's hawk in tow to keep away seagulls in the swimming pool and to stop pigeons from worrying guests dining alfresco. It certainly worked.
On arrival at the breakfast buffet, we told Beatrice, the catering manager that I was gluten free and Ray was dairy free. She walked us round the buffet showing us what we could eat. The buffet was extensive will all manner of bread, salad and fruit and a line-up of cooked items.
I couldn't have the bacon as it was cooked with bread underneath to stop it sticking, but she offered to bring fresh bacon if needed. The fried potatoes weren't suitable as they were fried in the same oil as breaded items. She said she would bring me some gluten free items.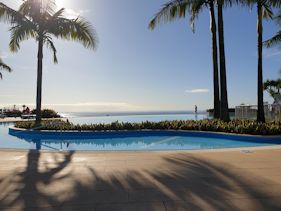 Having breakfast outside was a real treat in the sunshine with the view of the infinity pool. Absolutely breathtaking.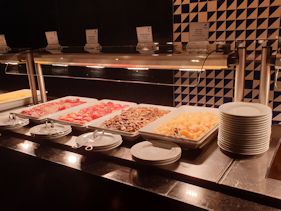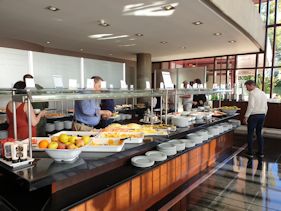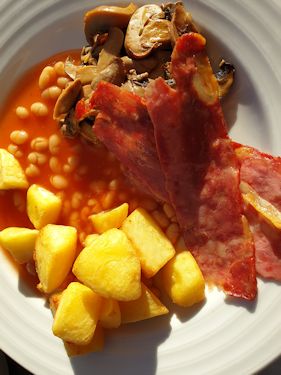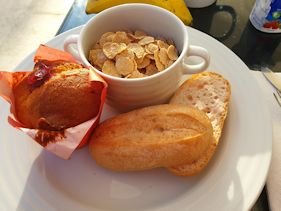 A list of allergens was displayed at the buffet and each dish was labelled accordingly with symbols. I was presented with a plate of gluten free cereal, bread and a muffin. I followed this up with a plate of fresh fruit and lactose free yogurt. The bread was inedible (even coated with strawberry jam) but the cereal and muffin delicious. When Ray asked which cereals were dairy free, Beatrice checked and returned letting him know that corn flakes and bran flakes were ok. Ray's breakfast consisted of bacon, mushrooms, baked beans and potatoes followed up by artisan style toasted bread with honey. Yummy!
SUPERMARKETS
Funchal has several supermarkets if you know where to find them.
Best idea is to google the one nearest you, although as you wander round the town, you will see them signposted. We finally found the Spar supermarket in the Marina Centre – three floors down and not very well stocked.
BEST RESTAURANT
When researching restaurants in Funchal which offer vegan and gluten free options, it was surprising how many failed to include the menus on their web sites. We dismissed several as we couldn't work out their allergies' policy.
Happily this wasn't the case for Cris' Place https://crissrestaurant.com/ in Rua da Casa Branca, a short cab ride away from our hotel by taxi. We all agreed that this was the best restaurant by far in Funchal in terms of ambience, atmosphere, service, quality of food and the way they dealt with our dietary requirements. By this time we were joined by our friends, one of whom – Do - is gluten free and dairy free.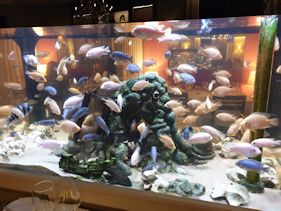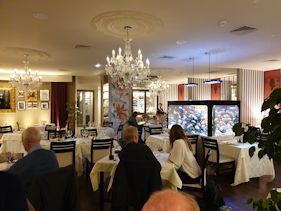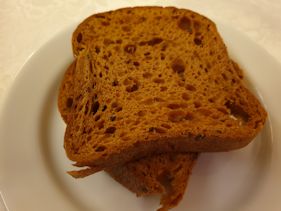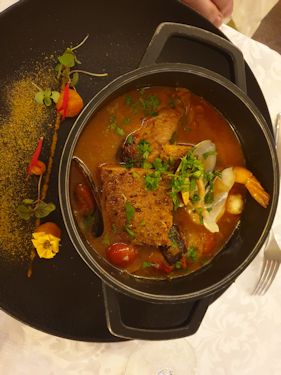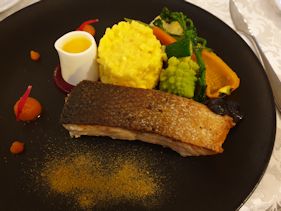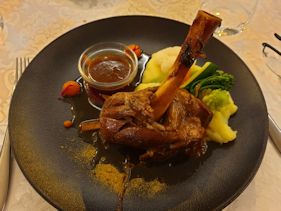 The décor of the restaurant is striking with gilt mirrors, striped wallpaper and chandeliers. A huge aquarium with multi-coloured fish is the focal point. On arrival we were given complimentary glasses of sparkling white wine. Crucially there was no background music which was wonderful. All of the dishes were beautifully presented on dark plates which offset the food. I enjoyed grilled salmon, while Ray ordered the lamb shank. They took on board our dietary requirements and Ray was served mashed potato without butter or milk. Do's Fish Stew looked very appetising. We were too full for dessert – the only gluten free items were pannacotta and crème brûlé. Nothing dairy free. We would certainly return here.
AFTERNOON TEA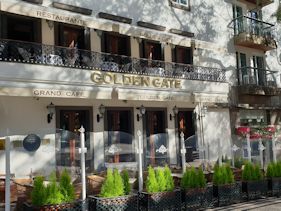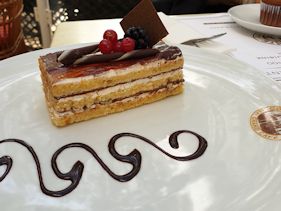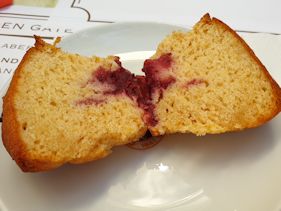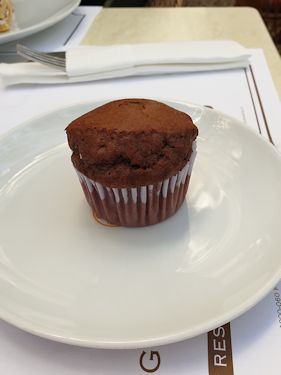 Another treat was the elegant Golden Gate café in Funchal www.goldengate.pt for afternoon tea, although there is a restaurant on the first floor. Here we enjoyed tea, beautifully presented. The cafe has a wonderful display of luscious cakes, one of which our friend Alan ordered – chocolate and coconut cake beautifully decorated. In sharp contrast, Do and I had a gluten free muffin each – you can see the difference in appearance! At least we were able to have a cake unlike Ray who ended up with mango sorbet. Mind you it was delicious!
MUSEUMS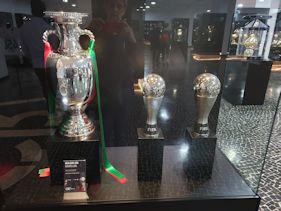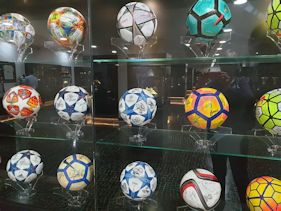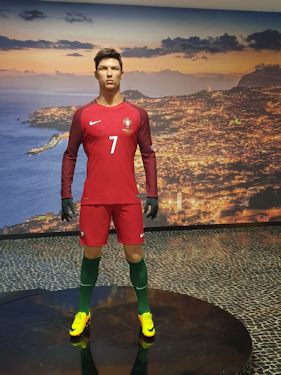 We paid a visit to the newly opened Cristiano Ronaldo CR7 museum https://museucr7.com/ dedicated to the Portuguese footballer and captain. You can't miss it as there is a massive statue of him outside, polished to a shine by enthusiastic followers! Inside there is a whole array of cups, accolades, footballs and life-size models of the footballer where you can pose for pictures.
FUNCHAL MARKET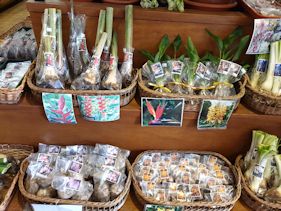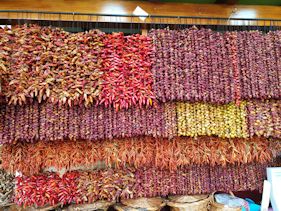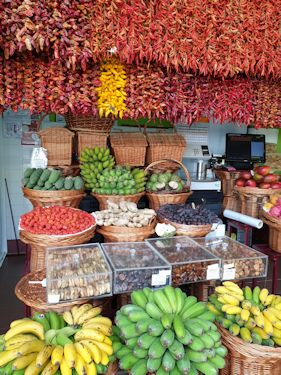 This is a colourful spectable with vast displays of fruit, vegetables, chillies and flowers. Several years ago we bought the roots of strelizas here (or birds of paradise as they are known), planted them and they have flowered ever since. Maybe we were lucky. This time we bought the root of a cymbidium orchid, so we'll see how that pans out.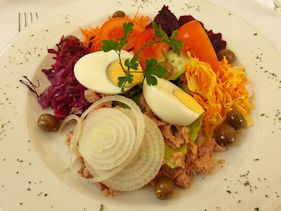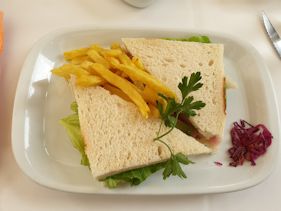 Near the market we found Restaurant O Almirante https://www.facebook.com/pages/O-Almirante/317898698883332 where we enjoyed lunch al fresco. I enjoyed a tuna salad while Ray ordered a ham sandwich with no butter.
NEIGHBOURHOOD RESTAURANTS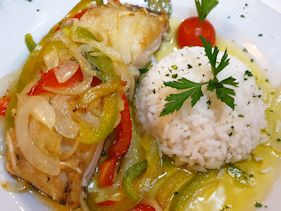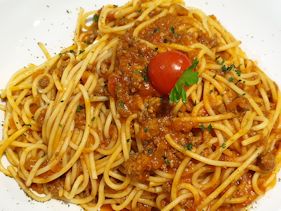 One evening, we decided to investigate the line of restaurants opposite the hotel. At April Restaurant, Avenida do Infante https://www.facebook.com/aprilrestaurant18 a woman (whom we later found out was called Jessica) showed us pictures of all the dishes. Her manner was friendly and instead of telling me what I couldn't eat, she showed me what I could. I chose April's Cod which was tender and served in an appetising sauce. Ray fancied spaghetti Bolognese and decided to order it, after checking there wasn't too much tomato in the sauce. A huge portion arrived and although tasty, he couldn't manage it. The waiters here are chatty and have a great repartee and offered us banana liqueur at the end of the meal. Scrumptious! We took our friends here another night.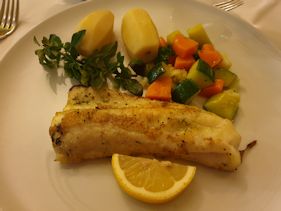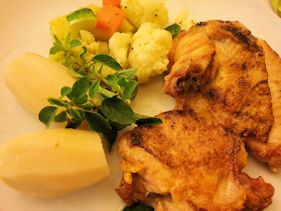 We also discovered another restaurant literally round the corner from our hotel Restaurante Casa Velha www.casavelharestaurant.com Here I ate scabbard fish – I just can't get enough of it! Ray opted for grilled chicken. A very pretty restaurant with excellent service.
STUNNING GARDENS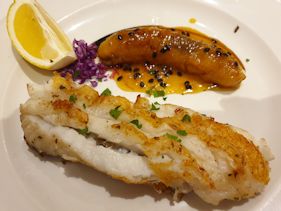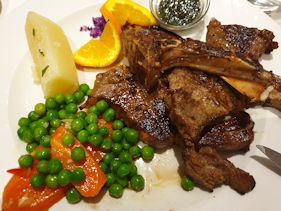 On another night, we dined at Restaurante O Dragoeiro www.dragoeiro.pt – this has stunning gardens with the trees illuminated with fairy lights. It must be wonderful to dine al fresco here in warmer weather, but unfortunately it was too cold for that! So we decided to eat in. The food was delicious – I had my usual grilled scabbard fish, this time served with passionfruit sauce which was yummy. Ray chose lamb chops and vegetables.
EXPLORING MADEIRA
Cable car, Monte and Botanical Gardens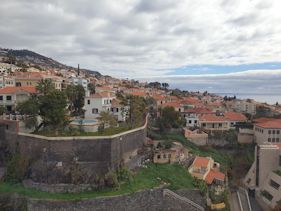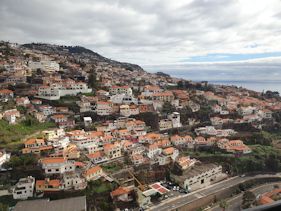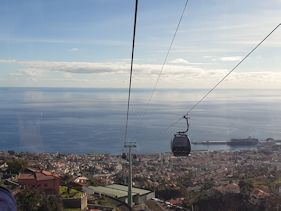 A trip by cable car www.madeiracablecar.com to Monte, a village at the top of the island is an exhilarating way to view Madeira. There are various combination tickets available depending on what you want to do. Tickets can be purchased on the quayside either from the Botanical Garden ticket kiosk or walk to the cable car terminal where you can buy tickets for 11 euros or combined tickets which include the botanical gardens as well.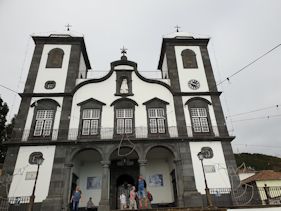 The cable car journey gives a birds' eye view of vegetation, the pan tiled rooves of houses, farmland, masses of palm trees and even sheep in the fields. It goes slowly, enabling you to see everything as it gradually climbs. On arrival, you can visit the Tropical Gardens and Monte Palace Museum (note this is different to the Botanical Gardens) and the village of Monte with its panoramic views. Don't forget to visit the 18th century Church of Nossa Senhora Do Monte.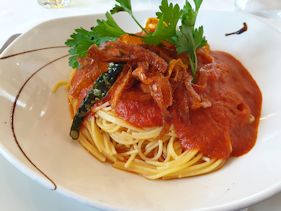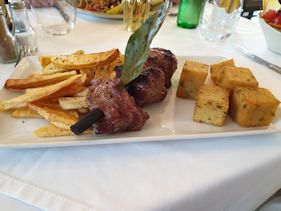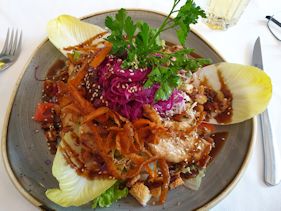 We had lunch at the Babosas Village Hotel http://babosas-village-funchal.hotels-funchal.com/en/ The service was excellent and they served gluten free pasta, so of course I had to try it! I wanted Bolognese sauce, but was told this contained gluten so I simply had the pasta with a tomato sauce which was delicious. Ray chose a chicken salad with a spicy sauce (without dairy) and our friend Do enjoyed lamb with chips and cooked polenta.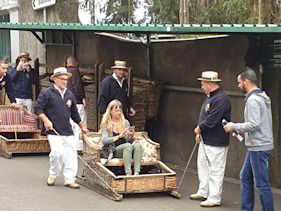 So the question is how do you get down again? The more adventurous choose to go on wicker carts or "toboggans" which are pushed down manually by two guys dtressed in boaters, looking very English. There are no safety belts. I guess you cling on and hope for the best. I know many people have enjoyed this, but we decided to play it safe and returned by cable car again – a magical experience.
To reach the Botanical Gardens from Monte, you take another nine minute cable car journey which descends to the gardens.
FISHING VILLAGE – Camara De Lobos
One of the best ways of getting around Madeira is the "hop on, hop off" bus. There are various options and routes to choose from. Our friend Alan wanted to visit a fishing village – Camara De Lobos, so we took a bus tour there. We were given earphones which were plugged into the seat in front and then could hear the running commentary. Sitting on top of the bus, it was a fabulous way of viewing the island. Our tour was run by Yellow Bus www.yellowbustours.com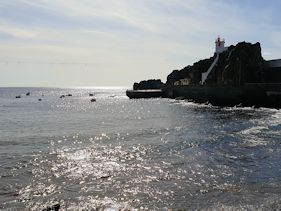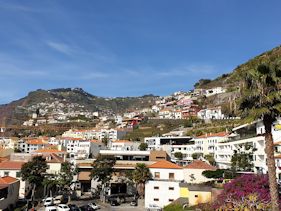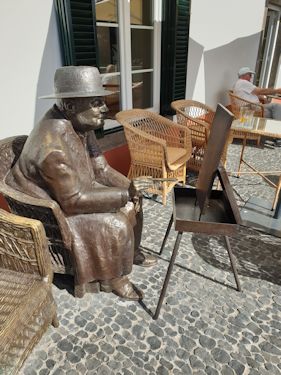 Camara De Lobos is a picturesque fishing village 5 kilometres from Funchal, which inspired Sir Winston Churchill to paint its beautiful surroundings. In front of the Hotel Pestana Churchill Bay Hotel, there is a statue of him and a plaque.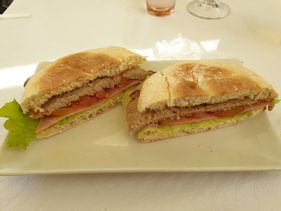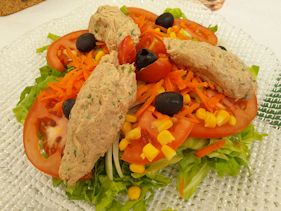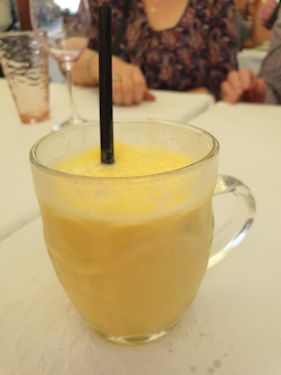 We discovered Espadeiro restaurant https://www.facebook.com/pages/Espadeiro/602076373571545, where we were given a friendly welcome and sat outside in the sunshine. The location of the restaurant provides impressive views of the beach and fishing village. We'd enjoyed such lavish meals during our holiday, we opted for smaller dishes. I enjoyed a tuna salad, while Ray ate a steak sandwich, after checking there was no butter or cheese in it. For dessert, we were offered a Portuguese custard tart, but unfortunately none of us could eat it. Alan did partake in "Nikita" a luscious drink of pineapple ice cream, beer, white wine and pieces of passionfruit. A heavenly combination (and I only had a sip!)