Eating Out With Food Allergies in Margate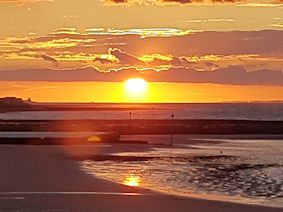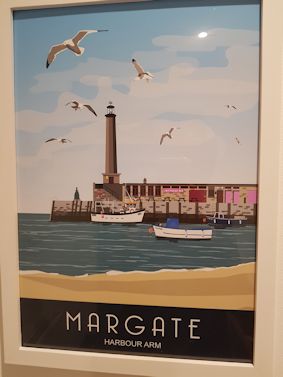 During our drive to Margate, we stopped off at the M2 services https://moto-way.com/location/medway-westbound/ at Costa Coffee https://www.costa.co.uk/ Ray asked whether there was anything dairy free and was shown a vegan cookie, although there was no label on it. It's a large soft biscuit with a chocolate toffee filling.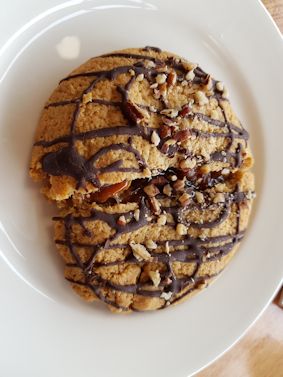 Margate is a great base to explore not only Ramsgate but also nearby Broadstairs. On arrival at Margate, we were swept along the pavement by gusts of wind and rain, so took refuge at the Margate Coffee Shed, 12/13 The Parade, Margate CT9 1EY (They have a Facebook page). After a warm welcome by the friendly staff, we were informed they did serve tea with soya milk, as well as other dairy free milks (although the soya milk cost 60p extra) Astonishingly, as we sat in the café the sun came out, which warmed us up through the window.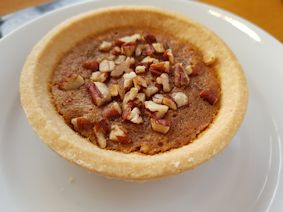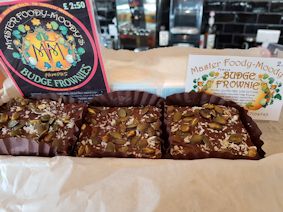 A choice of gluten free, wheat free and dairy free cakes were on offer, which was great news. Ray chose the pecan tart from www.we-love-cake.co.uk The packaging says it is made in a gluten, wheat and milk free bakery. I indulged in the Master Foody Moody Budge Frownie (yes that is the correct spelling) which is vegan and gluten free. This was delicious and moist without being oversweet.
Despite the gusty winds, we saw people kite surfing. Apparently Ramsgate is the best place to learn kitesurfing www.ramsgatetown.org/activeramsgate . It played host to the 2018 National Freestyle Kitesurfing Championships in August.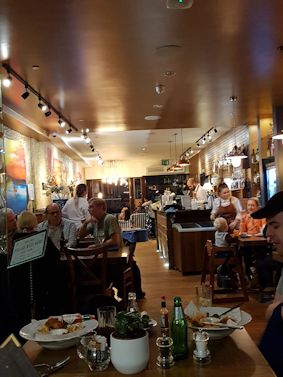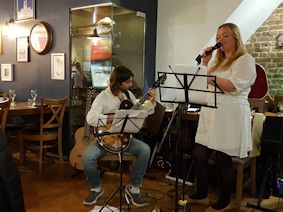 That evening, we chanced upon Buoy & Oyster restaurant https://www.buoyandoyster.com/ in Margate and enjoyed some live music. The menu has gf (gluten free) symbols against certain dishes, while a vegan menu is also available. As I love fish, I chose seabream in pepper with skinny fries. This was one of the rare occasions that Ray can eat fish and chips because the batter is home-made with beer and crucially without milk.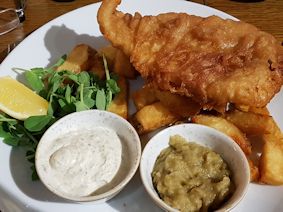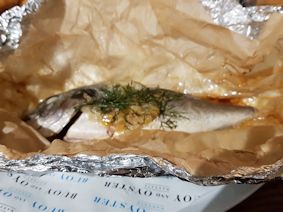 If you have room for dessert there are several gluten free ones available such as Margate Mess – summer berries, crushed meringue and cream with candy floss and rock. There's also a vegan dessert – grilled peaches with pistachio granola and vanilla soy ice cream. Unusual to see soy ice cream on a menu. Plus a range of sorbets.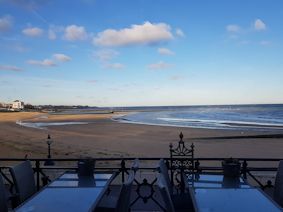 In contrast, the next day it was glorious sunshine with no wind at all! We were staying at the stylish Sands Hotel https://sandshotelmargate.co.uk/ with stunning views of the seafront from the dining room. Every morning for breakfast, we would feast our eyes on this amazing panorama, always moving our chairs to make the most of it.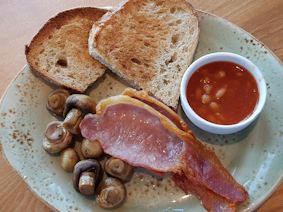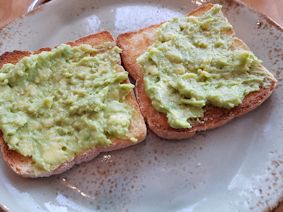 As usual, we had informed the hotel of our dietary requirements and they had really taken it on board. Soya milk was available, as well as flavoursome gluten free bread. Ray chose grilled bacon, mushrooms fried in oil, baked beans and sourdough bread, avoiding the sausages as we were informed they contained milk products. I enjoyed the kippers, as well as avocado on gluten free bread. There was a selection of pressed fruit juices as well as fresh fruit and coconut yogurt.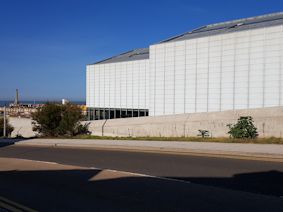 One of the main reasons for coming to Margate was to visit the well-known Turner Contemporary art gallery https://www.turnercontemporary.org/ This futuristic building is situated on the same site where Turner stayed when he came to the town. It presents a rolling programme of temporary exhibitions and events. As you would expect, there are a few Tuner paintings on display. When we visited, the "Animals & Us" exhibition was on, where artists, scientist historians, pet owners and others shared their perspectives on animals and us. For example there was a collection of pictures of elderly dogs, dated 2011, but these were no ordinary dogs. They had all served as search dogs following the 9/11 terrorist attacks on New York's twin towers. Photographer Charlotte Dumas had tracked down the 15 surviving dogs, ten years later, retired and living with their handlers.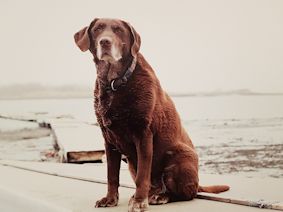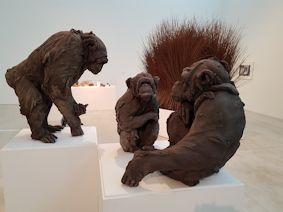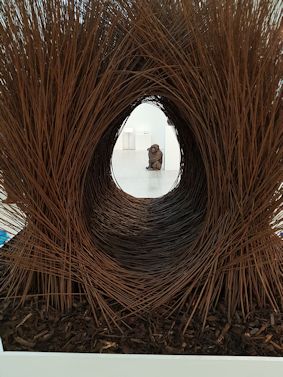 Other exhibits included monkey sculptures by Stephanie Quayle; Andy Holden's "Into The Blue" dark mule willow and collected objects depicting the bower bird's nest and George Stubbs' "Hunter By A Lake".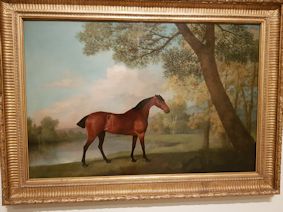 Taking refreshments at the gallery's café, it was great news that soya milk was served as well as a vegan chocolate cake for Ray. "It's moist, holds well, moreish and not oversweet, a real treat," he said.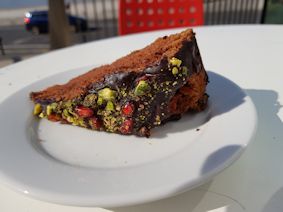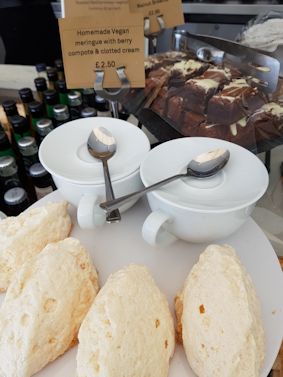 On display was a vegan meringue and next to it clotted cream and a berry compute, I guess, to make an Eton mess. When Ray asked about the cream, he was told it was dairy cream – so why was it so invitingly next to the vegan meringue? Odd.
I asked whether there were any gluten free cakes, but there was none so I watched Ray indulge in his cake!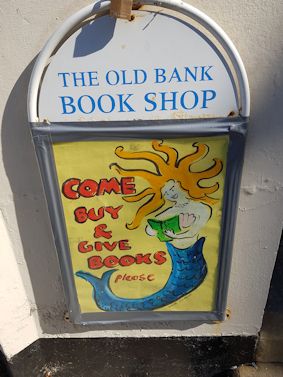 On our wanders in Margate we came across The Old Bank Bookshop, 17-18 The Parade, CT9 1EY https://www.pilgrimshospices.org/local-shops/margate-books/ Finding independent bookshops is one of our hobbies and it is gradually becoming more difficult to find any, so this was a pleasant surprise. In aid of Pilgrims Hospice, it is a vast bookshop with art books and paintings upstairs. Well worth a visit.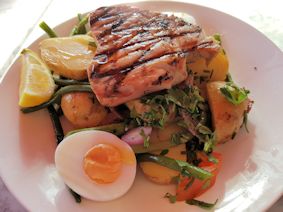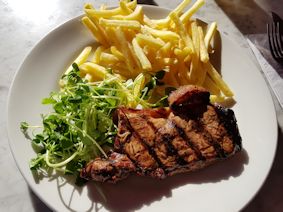 If you fancy going shopping, the Westwood Cross Shopping Centre https://westwoodx.co.uk/ is well recommended, where you'll find most well-known chains such as TK Maxx, Debenhams, M&S and Monsoon. This is where we rediscovered Café Rouge https://www.caferouge.com/ We had stopped coming to this chain because it was so difficult to find anything to eat. So we were delightfully surprised to find that the menu now carries symbols VE for vegan and GO meaning "can be made gluten free on request". An allergen menu is also available on request listing all 15 allergens. I asked for this and double-checked the ingredients for each dish. I opted for salad nicoise, which was a generously sized meal with a huge tuna steak. I'd certainly order this again. Ray chose steak frites (after checking there was no butter on the steak), which he said was very tasty.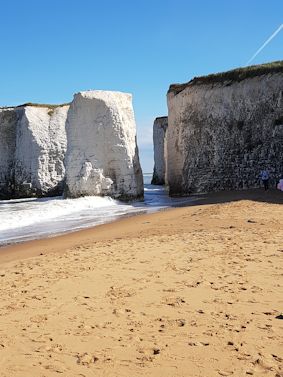 En route to Broadstairs, we stopped off at Botany Bay and as the weather was so beautiful it was as though we were somewhere exotic in the Med.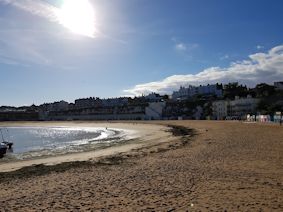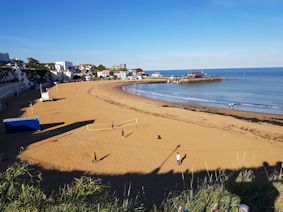 Broadstairs www.visitbroadstairs.co.uk is like a throwback to a 1950s seaside town. It is charming, elegant and old-fashioned with its own bandstand and a traditional high street. To take advantage of the sunny weather we dined in the garden at the Royal Albion hotel https://www.albionbroadstairs.co.uk/ with views of the beach.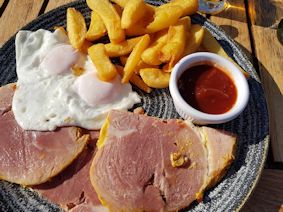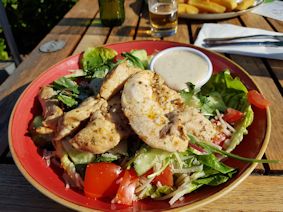 When I explained our dietary requirements, I was handed their allergen guide to I could look up the allergens for all dishes. I had Grilled Chicken Caesar Salad with no croutons, while Ray enjoyed Ham and Chips with Tomato Chutney. The chips was hand cut and crispy and the ham was succulent and juicy. It was idyllic to sit there soaking up the Autumn sunshine and in fact we returned here later for a cup of tea.