Eating out With Food Allergies in The Cotswolds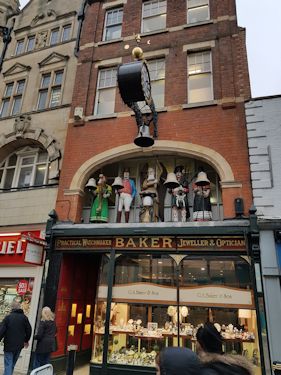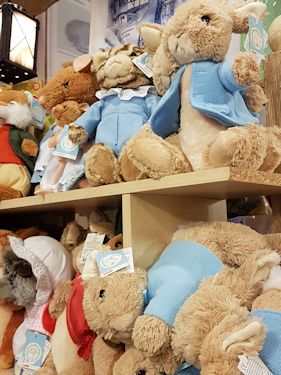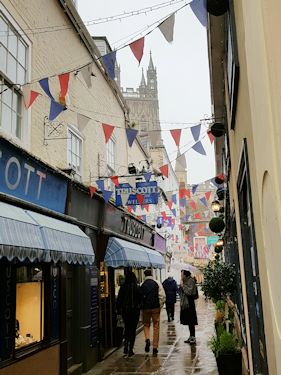 Eating out with food allergies at UK motorway services is always a hit and miss affair. We never know if there's going to be anything we can eat, so we often make do with a packet of crisps or take our own food.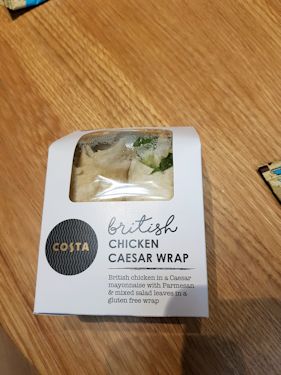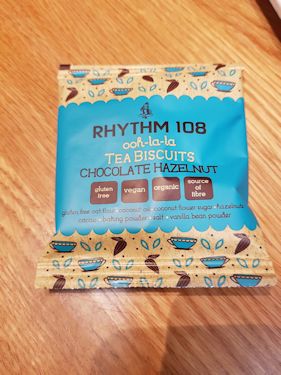 Costa Coffee's https://www.costa.co.uk/ 'free from' options are improving. The coffee chain has always claimed to offer 'free from' choices, but I've often not been able to find them in high street branches. We were lucky this time – in the Costa Coffee shop at the Reading M4 Moto services https://motorwayservicesonline.co.uk/M4 I found a gluten free British chicken Caesar wrap. This consisted of chicken in Caesar mayonnaise with Parmesan and mixed salad leaves in a gluten free wrap, which was very tasty. Unfortunately they didn't have anything equivalent for Ray which was dairy free, so he made do with the crisps. We tried out some new chocolate hazelnut biscuits Rhythem 108 www.rhythm108.com Its packaging says it is gluten free, vegan, organic and a source of fibre. The two small dry biscuits were not to my taste. They also contains 20% saturated fat. Other alternatives would be the Nine cereal bar www.9brand.com or Costa's Belgian dark chocolate brownie. I looked for the gluten free dairy free miniature Bakewell tarts without success – wonder if they've discontinued them?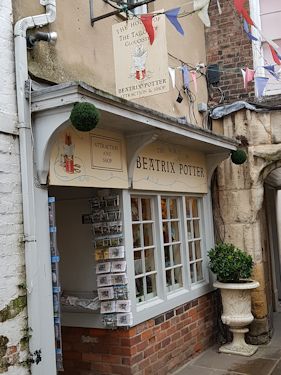 We arrived at Gloucester, where we headed for Beatrix Potter's The Tailor of Gloucester Museum and Shop http://www.tailor-of-gloucester.org.uk/ in College Court which stands within the shadow of Gloucester Cathedral. For Beatrix Potter lovers, it is a treasure trove full of memorabilia, historical background and of course lots of fluffy bunnies to purchase. Well worth a visit.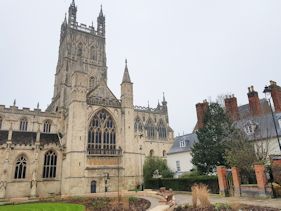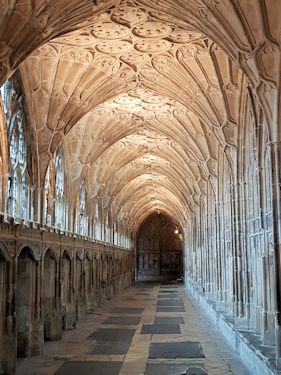 We explored Gloucester Cathedral http://www.gloucestercathedral.org.uk which has been a place of Christian worship for over 1,300 years. Highlights include the New Tribune Gallery, the Whispering Gallery and Lady Chapel. The Cloister is famous for its breath-taking fan vaulting and the filming of Harry Potter.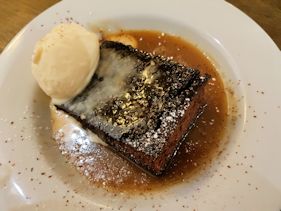 The highlight of our trip (for me anyway) was the mouth-watering Sticky Toffee Pudding served at The Bell in Shurdington www.thebellshurdington.com I haven't tasted sticky toffee pudding for years, although I have attempted to make a gluten free and dairy free version. This made up for it. The sponge was light and airy and crucially, was moist even without any sauce. This is highly commendable as gluten free sponges tend to be dry and crumbly. The overall taste of the sponge, the caramel sauce and vanilla sponge was truly tantalising and very moreish. Ray sadly had to watch me enjoy myself. He could have had the sticky toffee pudding without sauce and ice cream so it was dairy free, but didn't like the idea. Or the crumble of the day without custard – so he told The Bell about Alpro's ambient soya milk custard www.alpro.com/uk for future reference
Another bonus at The Bell is that all desserts are gluten free!
The a la carte menu indicates which dishes are gluten free by means of a "GF" symbol, although the daily specials menu doesn't and there are no symbols for any other allergens. We found the staff helpful and knowledgeable about the content of the dishes. When we asked if there was milk in the batter of the fish and chips dish, they said they would check with the chef.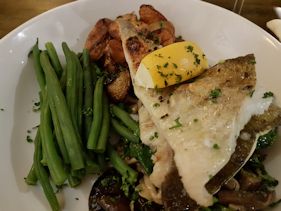 Happily there wasn't any so Ray enjoyed Hand Bell ale beer battered cod and chips served with garden peas. I opted for Roasted Cod with mushrooms, spinach, green beans and sautéed new potatoes, without the creamy wine sauce. The Bell is a friendly, informal pub with a conservatory restaurant attached to it, as well as an extensive outdoor seating area.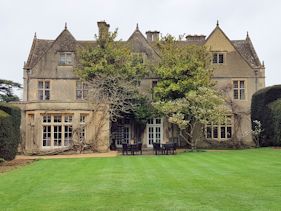 We had alerted our hotel The Greenway Hotel & Spa in Shurdington, Cheltenham https://www.thegreenwayhotelandspa.com/ about our allergies in advance, so were hopeful that they would at least have soya milk and gluten free bread for breakfast.
The hotel is a 21 room 16th century Elizabethan manor house hotel, set in beautiful grounds, equipped with a spa. We sampled the pool which is equipped with power jets – great for melting away aches and pains. The spa offers the full range of treatments, as well as an outdoor hot tub where some guests were enjoying a glass of champagne.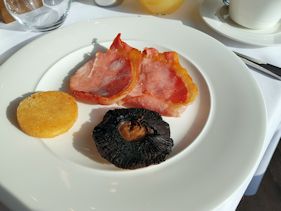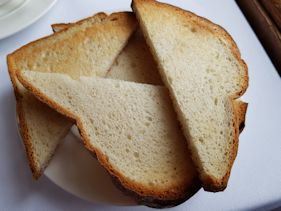 At breakfast, we were impressed to find that soya milk and gluten free bread was available. The staff were attentive and helpful and even brought Ray the packet of Dorset Cereals so he could read the ingredients to see if there was any milk in it. He decided against eating it as it contained berries, which he can't eat. He ate Kellogg's cornflakes after having checked there was no milk in the ingredients listed on the packet. Neither of us can eat eggs (unless they are part of a recipe such as a cake). Ray chose the full English breakfast without dairy and eggs consisting of bacon, mushrooms and a circular piece of fried bread. Both the vegetarian and meat sausage contained milk so he couldn't eat them. I enjoyed the kipper without butter with gluten free toast and marmalade.
Ray asked for a banana but was told the hotel didn't serve them "as so many people are allergic to them." That's news to us.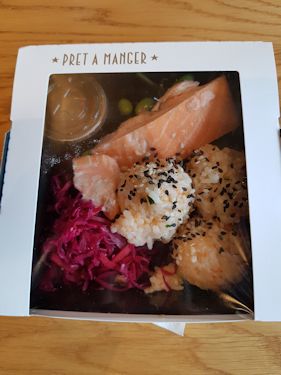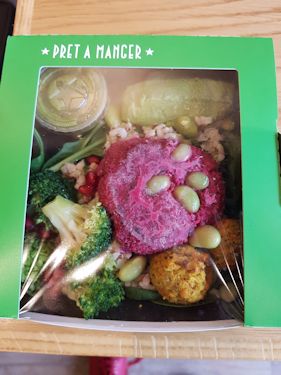 In Cheltenham, we played it safe and had lunch at Pret https://www.pret.co.uk/en-gb/ The benefit here is that Pret lists all the allergens clearly on labels in the chiller cabinet so you can see exactly what's in the dish before buying. This is such a simple idea; it's a pity more food outlets don't do the same. It's great that they have extended the range of vegan options, which is good news for Ray as there aren't any dairy ingredients in them. I enjoyed the vegan Sweet Potato Falafal & Smashed Beets Veggie Box, while Ray opted for Teriyaki Salmon Sushi Salad.