Eating out with food allergies in the Isle of Wight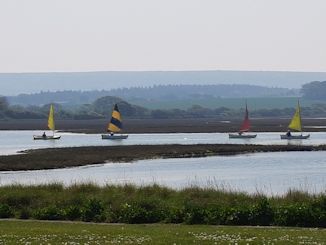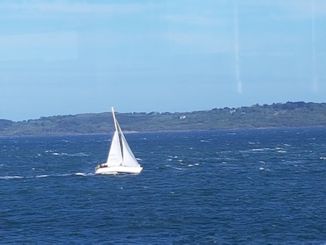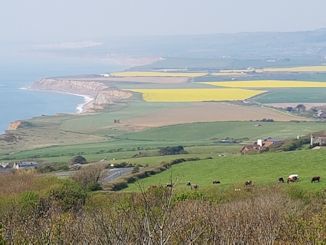 Boarding the Wightlink ferry www.wightlink.co.uk at Portsmouth Harbour en route for Fishbourne, Isle of Wight www.visitisleofwight.co.uk , we were pleased to find a Costa Coffee www.costa.co.uk outlet where we enjoyed a cup of English breakfast tea, as well as Costa's vegan, dairy free and gluten free Flapjack with cranberries, sultanas and apricots. This was a pleasant surprise as we didn't expect to find anything we could eat so had brought our own sandwiches - dairy free for Ray and gluten free for me.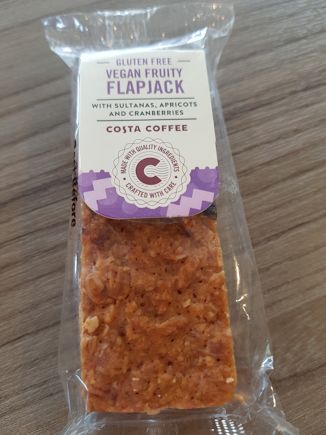 We were staying at the West Bay Club & Spa in Yarmouth www.westbayclub.co.uk Set in 15 acres of landscaped grounds and pathways, a wide variety of accommodation is on offer from single storey cottages to two storey houses. In addition, there is a country club with a heated indoor swimming pool, a choice of exercise classes, as well as a spa with beauty treatments.
Our cottage for two was beautifully decorated, complete with fridge, microwave and cooker. Whenever we can we opt for self-catering as it means you're not reliant on eating out all the time, which is problematic if you have food allergies.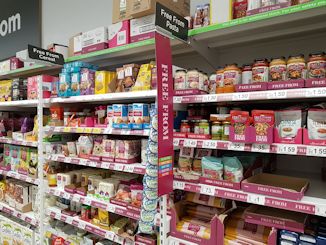 We don't normally shop at Asda www.asda.com (there isn't one near us) so we were pleased to find a comprehensive range of "free from" foods at the bumper store in St Georges Way just outside Newport. Here we also found Don Simon Cloudy apple juice www.donsimonuk.com – a discovery we made at one of the cafes.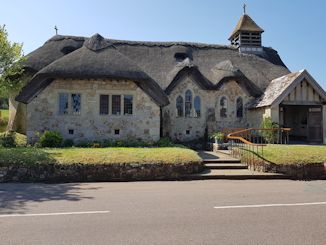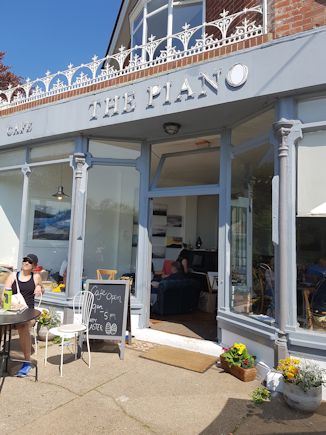 On our way to St Catherine's Lighthouse, we chanced upon The Piano Café in Freshwater Bay www.thepianocafe.co.uk, located near St Agnes Church, dating back to 1908 and the only thatched church on the Isle of Wight.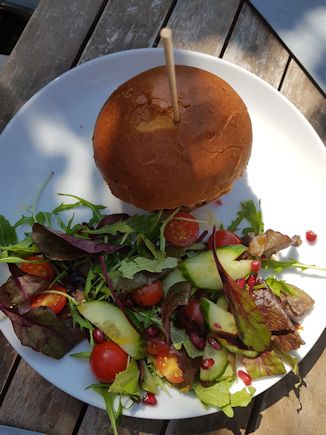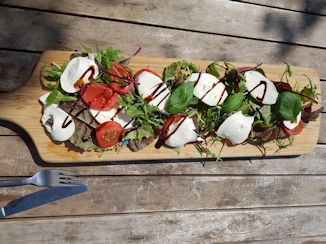 The café is so-called as there's an old-fashioned upright piano inside. We chose to sit outside to make the most of the weather. On a quiet day, the café is perfect for relaxing and reading the papers as it has a club-like atmosphere. The menu doesn't have any symbols for gluten free or vegan, but when ordering at the counter, I was offered gluten free bread and there was no problem with Ray's burger, they simply put "dairy free" on the order. My Caprese salad, visually attractive served on a wooden board comprised Isle of Wight (IOW) tomatoes, mozzarella, basil and dressing. Ray's burger was served with a salad, omitting the feta as stated on the menu. One of the house specialities are the fresh juices so I tried the Multivitamin (orange, kiwi, carrot, pear and apple) a truly refreshing drink. Ray imbibed Folkington's apple juice www.folkingtons.com which he said was invigorating, so much so he ordered it at other venues.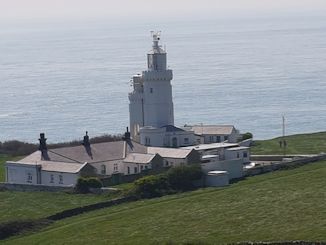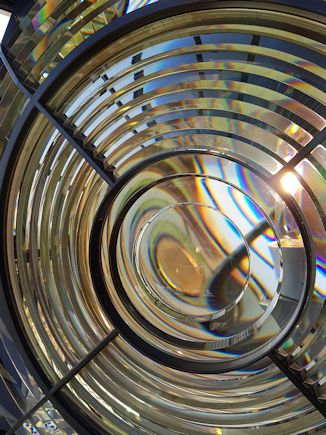 At St Catherine's Lighthouse, located on the southernmost tip of the island https://www.trinityhouse.co.uk/lighthouse-visitor-centres/st-catherines-lighthouse-visitor-centre we participated in a fascinating tour of the lighthouse, built by Trinity House in 1838 to guide shipping in the Channel as well as vessels approaching the Solent. A highlight was ascending the stairs to the very top of the building for panoramic views of the island, as well as a close up of the light inside. This light is dazzling so you have to avert your eyes. This is truly a fascinating experience, well recommended.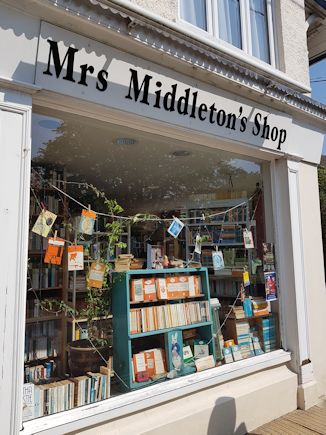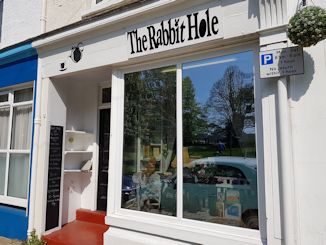 One of our passions is discovering independent bookshops and the Isle of Wight didn't disappoint. As we drove through Freshwater, we spotted The Rabbit Hole and Mrs Middleton's Shop https://mrsmiddleton.com/ both owned by Gail Middleton, author of "The Freshwater Circle through the Looking Glass – and what Lewis Carroll found there". Dedicated to Gail's grand-daughter, the book is about Lewis Carroll, the characters he wove into his story and how they link up with her home. We started browsing in Mrs Middleton's Shop, a cornucopia of second-hand books of all genres when Gail offered to show us round The Rabbit Hole.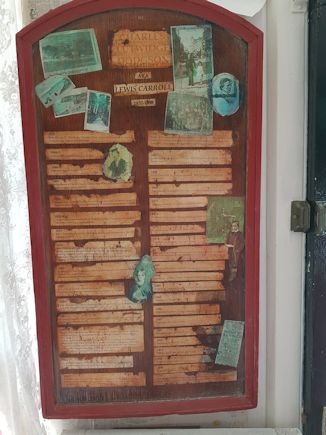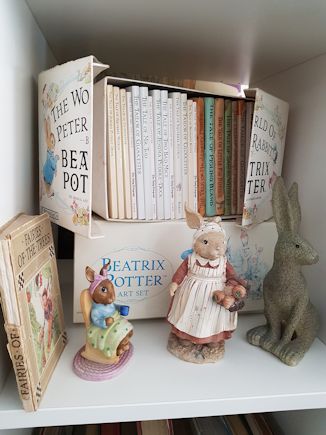 The window displays are enchanting and inside you'll find all sorts of treasures such as a Lewis Carroll timeline and a beautiful display of Beatrix Potter books. Upstairs is a comfy sitting room decorated with Mrs Middleton's paintings, where you can sit and look through more books. A fabulous experience. It's so rewarding to find such interesting and individual bookshops. We look forward to our return trip there.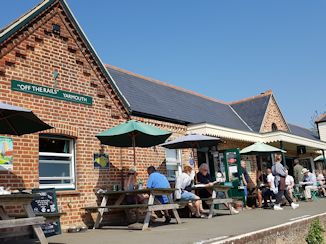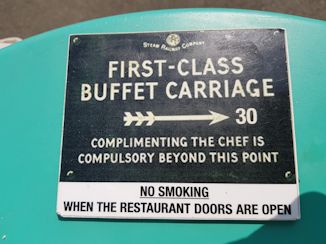 One of our biggest discoveries was Off The Rails restaurant in Yarmouth https://www.offtherailsyarmouth.co.uk/ This restaurant is a converted railway station, as the name implies, down to every little details. Even the cushion covers are made of fabric with railway tickets printed on it and the walls are decorated with old-fashioned railway posters. Set along the old railway line, the venue offers fabulous views of Yarmouth Marshes and Mill Cope. You can also watch ducks and the occasional swan. Bird feed is available for £1 if you fancy feeding them.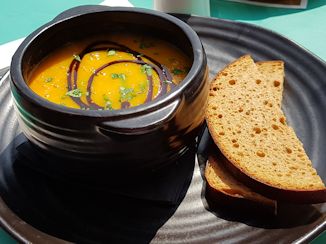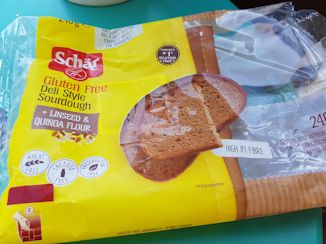 It was such an enjoyable experience dining in a former railway station sitting on what was the platform! The menu usefully has symbols for gluten free, vegan and vegetarian. On our first visit, we enjoyed spiced carrot soup which was both dairy free and gluten free and very tasty. Mine was accompanied by gluten free bread which, unusually, tasted delicious and not at all like blotting paper. I raved about it to our waiter who reveals it was Schar's gluten free deli style sourdough https://www.schaer.com/en-uk – so I'll be trying that back home.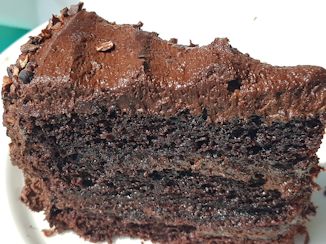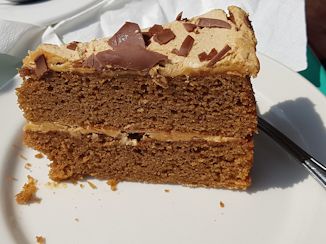 We also indulged in some cakes – gluten free cappuccino cake which smells and tastes like butterscotch and melts in your mouth, while Ray had the vegan light chocolate cake which he found irresistible.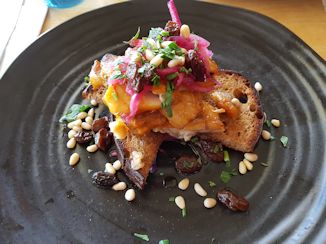 On our return visit, Ray opted for "The Luggage" burger, so-called because it was served in a tiny suitcase. Talk about the 'wow' factor. The burger was in a dairy-free bun with scrumptious bacon jam, lettuce, pink onions and Off The Rails burger sauce. He said it was a delicious combination.
My choice was the gluten free version of the "Furnace" – smoked mackerel on gluten free bread with pink onions and pine nuts and whiskey smoked sultanas. Yummy – the savoury smoked taste of the fish worked well with the sweetness of the red onion and sultanas and the crunchiness of the pinenuts. Do check the web site for opening hours. The restaurant also holds special events such as a murder mystery show. There is also an option to upgrade to "first class" service which means the kitchen will prioritise your table to minimise waiting time for quick service in return for a donation of £5 per person (50% of this goes to charity). I think this is the first time I've ever seen this on a menu!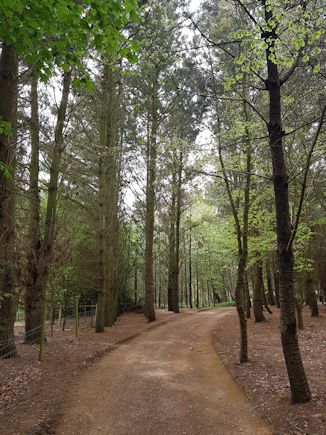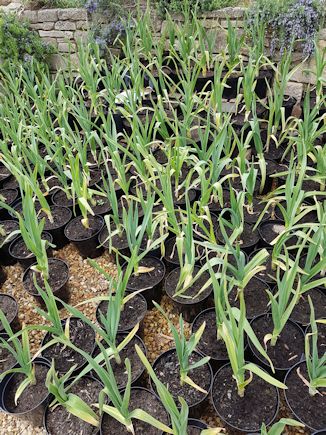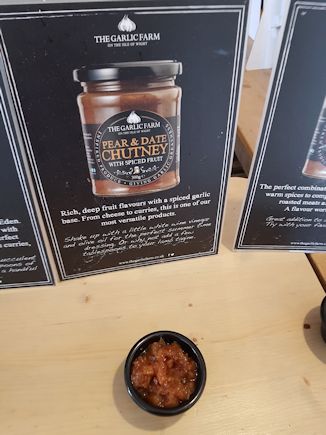 Foodies will enjoy a visit to The Garlic Farm www.thegarlicfarm.co.uk a family run business which has been growing garlic for 60 years. There's plenty to see and do at the farm such as farm walks, tractor tours, special activities and workshops. There's an opportunity to taste all The Garlic Farm's products – we particularly liked the Garlic Mayonnaise, the Pear and Date Chutney and Fig, Apple and Garlic chutney. We also purchased some black garlic which adds a sweet and balsamicky taste to dishes.
The Isle of Wight is well-known for its Garlic Festival https://www.garlicfestival.co.uk/ which is held 17 to 18 August.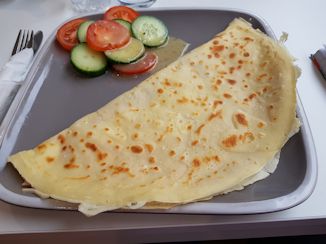 Out exploring in Ryde, we were searching the town for somewhere we could eat and by chance we found "So Yummy" in the High Street https://www.facebook.com/Rydecafe.IOW/ The sign outside said it was the best gluten free café in Ryde, so in we went! Unbelievably it offered gluten free crepes so I enjoyed a savoury ham crepe.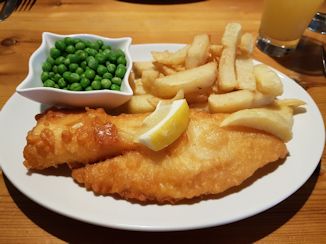 Back in Yarmouth, the attraction of gluten free fish and chips was too much so we headed for Blue Crab Restaurant http://www.thebluecrab.co.uk/. Ray ordered the beer battered cod fillet which was dairy free, while I had the gluten free version, both served with chips and peas. This was the first time I'd eaten fish and chips for over ten years and it was an incredible experience – a total taste sensation! We took the precaution of ordering the small portion, which was ample – so much so we couldn't manage any pudding. Pity as they had a gluten free home-made sticky toffee pudding.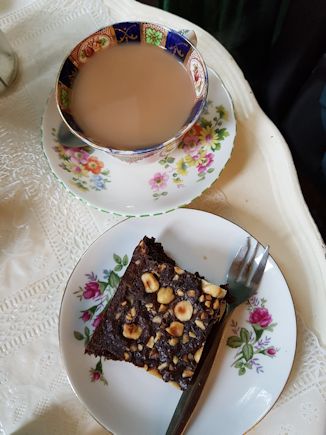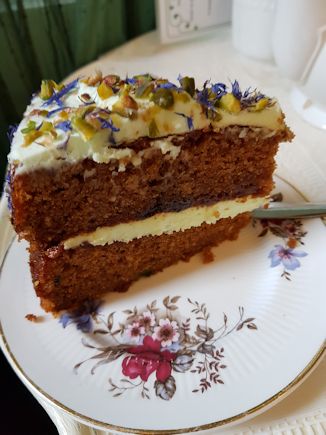 A rainy morning was well spent at Dimbola Museum & Galleries, http://www.dimbola.co.uk/ the home and workplace of Julia Margaret Cameron, the pioneering Victorian photographer. It is a museum and gallery dedicated to her work, as well as showcasing contemporary exhibitions from photographers from around the world. It also has an excellent café Julia's Tearoom where we enjoyed a couple of cakes – vegan brownie and a gluten free courgette and avocado cake, as well as tea with soya milk.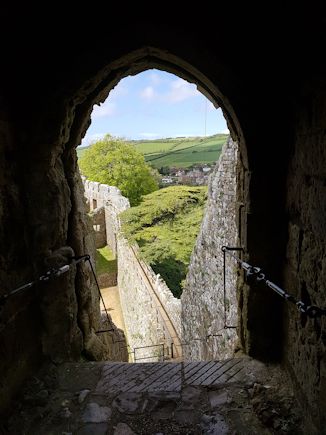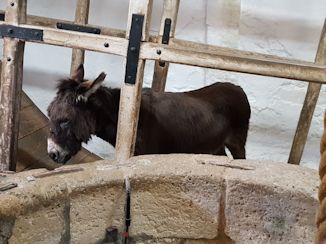 Carisbrooke Castle https://www.english-heritage.org.uk is well worth a visit as there are so many different things to experience. For starters, meet the castle's resident donkeys. Donkeys have been drawing up water in the well-house for hundreds of years and you can watch their daily demonstrations working the 16th century tread wheel to raise the water from the bottom of the castle well. When we saw a demonstration, our donkey was having a slow day so the tour guide stepped in to roate the wheel. She said the donkeys work, on average, six minutes a day! They all have names beginning with "J" such as Jill and Jack. This tradition was started when Charles I was a prisoner at Carisbrooke. When he wrote letters or was planning his escape route, he always signed his letters with a 'J'.
You can explore Princess Beatrice's garden (Queen Victoria's daughter) and visit the Chapel of St Nicholas a memorial to Charles I and to the island's dead of the Great War. We also looked round the museum to see objects from the castle's past. These include a Turner watercolour painting of the Castle's gatehouse from 1827 and a nightcap said to have been worn by Charles I on the eve of his execution. You can also view Charles I's bedroom during his imprisonment at the castle.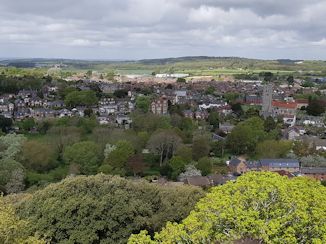 For a panoramic view of the island, climb the steps of the Norman Keep, which dates back to 1100.
For more information about the Isle of Wight, visit https://www.visitisleofwight.co.uk/