Gluten Free Cooking Course at Cookery School, Little Portland Street, London, W1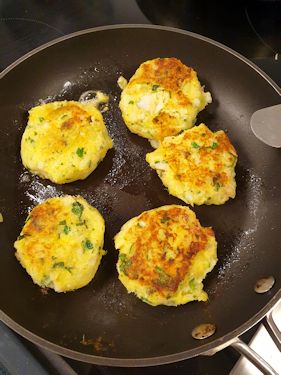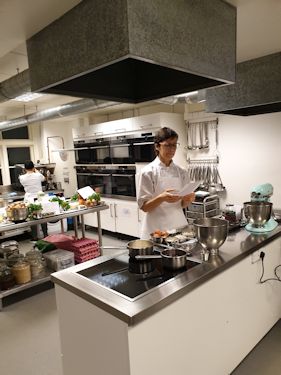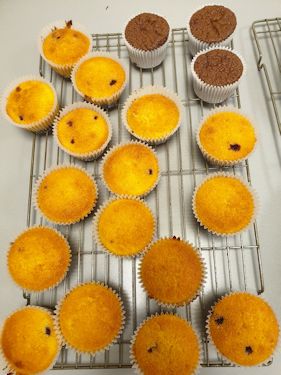 As we all know, gluten free cooking is challenging, so it's always great to find new methods and recipes. The gluten free cookery course at the Cookery School www.cookeryschool.co.uk at Little Portland Street, London, offers an opportunity to not only learn about new recipes, but also to hone your cookery skills. The course, held from 10am to 3pm, teaches you to learn a whole spectrum of dishes from chickpea gnocchi, fish cakes, macaroni cheese to upside down cherry cupcake and chestnut cake. In addition you also learn "basics" and pick up top tips.
Conveniently located near Oxford Circus tube, the class takes place in a light, airy kitchen with all the latest gadgets such as the Kitchen Aid food processor and a large TV monitor so students can watch dishes being created.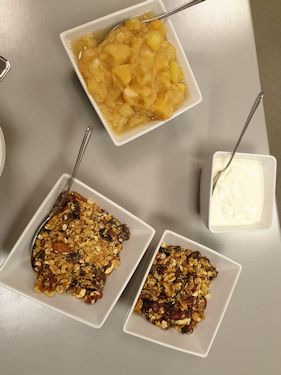 On the morning of the course, I was offered a cup of tea (with soya milk) as well as home-made muesli – gluten free of course! I'd explained that I would like to adjust the recipes so they were dairy free so Ray my husband could eat them. It was commendable that they were able to do this – so I was given coconut yogurt with my muesli.
Altogether we were a group of 12 including several "couples" including a gluten free mother and son; a mother and daughter where the mother wasn't gluten free and a couple where the wife was gluten free, but not the husband. The non-gluten free people said they had come not only for support, but also to learn how to cater for their gluten free family member. The group included some dairy free individuals, as well as one person who couldn't eat chilli or garlic, so the school ensured that this person cooked their portion without these ingredients. Several people had been given the course as a Christmas or birthday present. What a great idea!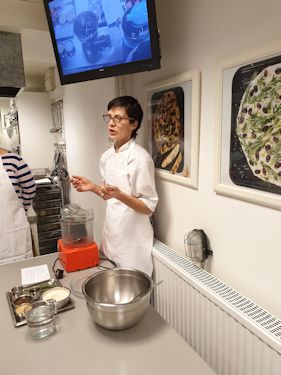 Our tutors were Jane and Aga, who talked us through the recipes and then divided us into groups to carry out various tasks. Jane said The Cookery School has a policy of being as sustainable as possible since it started in 2003. For example, the school uses recycled foil instead of cling film; only cooking with sustainable fish, uses energy-saving induction hobs and has a small roof-top allotment in Regent Street, WI where herbs and vegetables are grown. I would love to visit and see how that works.
MAKING GLUTEN FREE CAKES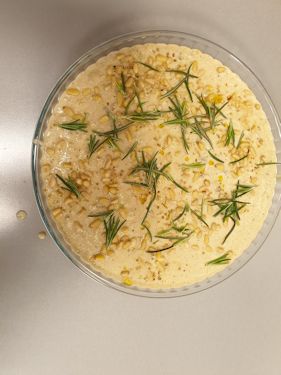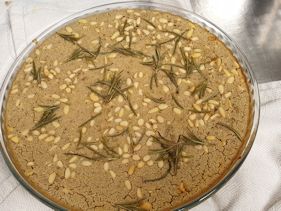 My first task was to make Chestnut Flour Cake or "Castagnaccio" with other members of my group. Chestnut flour, made from chestnuts, is a great gluten free alternative. You can buy it from Shipton Mill https://www.shipton-mill.com/, as well as larger branches of Wholefoods https://www.wholefoodsmarket.co.uk/ or Waitrose www.waitrose.com . Or just try online for other stockists. We mixed together chestnut flour, water, oil, soaked raisins and pinenuts. Crucially this recipe doesn't have any sugar. It cooks in just 20 minutes. It tasted yummy – a blend of sweet and savoury - and I will certainly try this at home.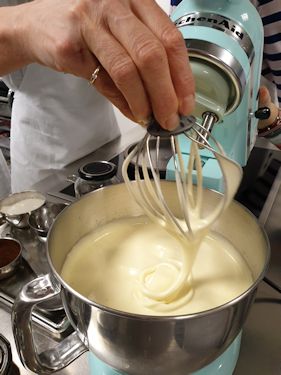 Meanwhile, my colleagues were whipping up the cake mixture for the Gluten Free Upside Down Cherry Cupcakes in the Kitchen Aid. When whisking, you must make sure it's ready, said Jane, so you need to look for a "ribbon" – a trail of liquid that lasts at least four seconds – see my picture. For the cupcakes, the fresh cherries were heated in a saucepan until they boiled into a syrup. Pineapples could also be used in this way, but Jane didn't think apples were suitable (although I'm going to give it a try!)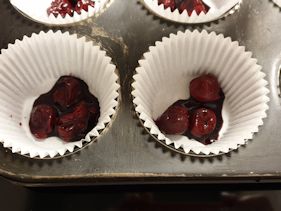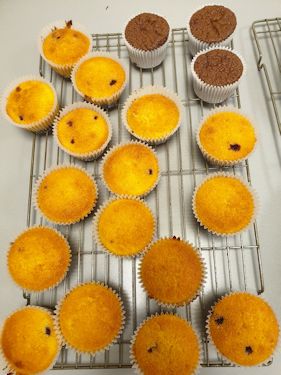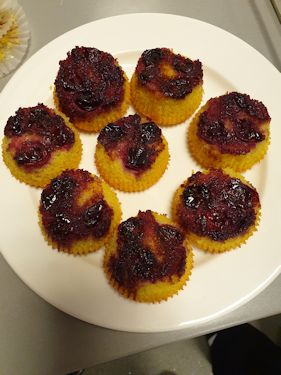 The fun part was assembling the cupcakes – firstly a portion of cherries in the cupcake cases, which are then topped with the cake mixture. When the come out of the oven, the cherries aren't visible. After cooling, turn out the cakes onto a plate upside down to reveal the cherries on top – as per the name.
HOW TO CUT AN ONION
I always thought I knew how to cut onion and garlic, but it appears not to be the case. Ana showed us the method – seems I've been doing it wrong all these years. Cut the onion in half, leave the root intact, cut downward incisions and then across, ending up with miniscule pieces of onion. Of course you must make sure you have the right knife for the job such as Wusthof Knives (although pricey!). Ana said it was important to find a knife which you felt comfortable with.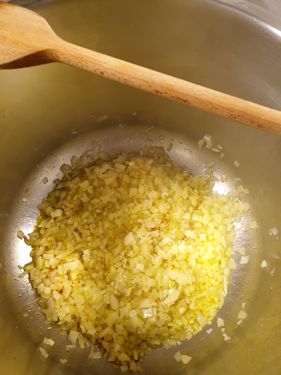 The tomato sauce, a mainstay for several dishes, is dependent on caramelised onions. One of the most important things I took away from this course is that onions need to be cooked for a long period of time – in this case 30 minutes until they are caramelised. This means we were constantly stirring the onions so they wouldn't burn. This sauce uses passata and sun dried tomato paste which certainly gave it depth of flavour. When the onions were cooked, we added the herbs and garlic. We were taught the importance of seasoning and how a pinch of seasalt can make all the difference, but you have to constantly taste it to make sure you're not overdoing it. It's important to use the right condiments such as Kirkland Black Pepper Grinder and Geo Atlantic sea salt.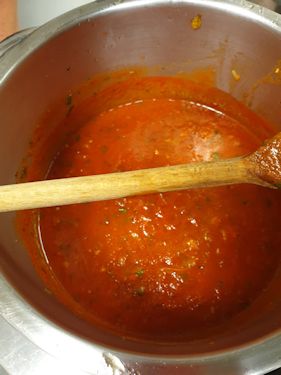 Jane said the tomato sauce can be frozen. It was used for the gnocchi and macaroni cheese.
COOKING WITH POLENTA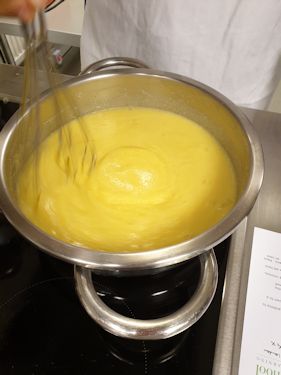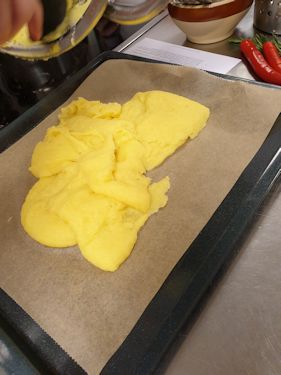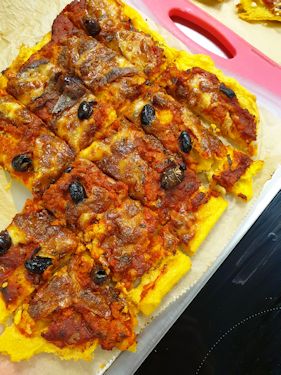 Polenta has always been one of those ingredients I've shunned because I don't know how to cook it (apart from in a cake). Jane showed us how to make it – interestingly to mix the polenta and water in a bowl before you put it in a saucepan and continue to stir it until the polenta has thickened, then cook slowly for ten minutes. We used it to make a pizza base. I poured the polenta onto a greased tray in a circle shape. It was refrigerated until it was firm, then we covered it with a tomato sauce and various toppings such as parsley, olives and anchovies. For the dairy-free people we used Violife's https://violifefoods.com/ vegan grated mozzarella.
GNOCCHI USING CHICKPEA FLOUR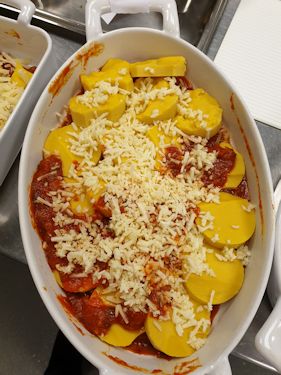 It must have been years since I ate gnocchi so the prospect of eating some was tantalising. Again the chickpea flour and water was mixed thoroughly before placing in the saucepan on the hob and cooked until the mixture had thickened. In a similar way to the polenta, the thickened chickpea was poured into a greased pan, allowed to set and cooled before using a circular cutter to cut it into "discs". Tomato sauce was spread on the bottom of a dish and then the "discs" were arranged, overlapped in neat rows with grated cheese sprinkled on the top (again vegan cheese was used for the dairy free people).
GLUTEN FREE FISH CAKES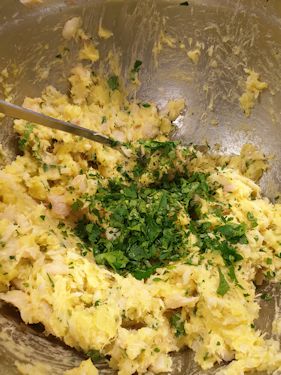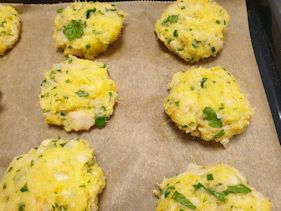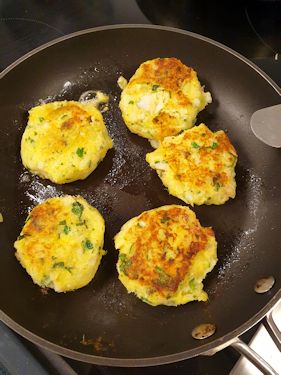 What a treat to learn how to cook gluten free and dairy free fish cakes. Firstly a Pollock fillet was covered with water, parsley stalks and bay leaves and poached for about 20 minutes at 150 degrees C, so it can be flaked later. The cooked potato had been prepared earlier. Make sure the fish is drained before flaking it. The fish, cooked potato, egg yolks and parsley are mixed together and well-seasoned into a sort of "dough". It was great fun taking a ball of "dough" and then moulding it into a little "cake" on greaseproof paper. These were then fried in rapeseed oil. Jane advised "When frying, keep them still so they form a skin."
We were also taught how to make gluten free Bechamel sauce using gluten free plain flour. For dairy free diets, substitute the milk for Oatly www.oatly.com or soya milk.
THE BIG FEAST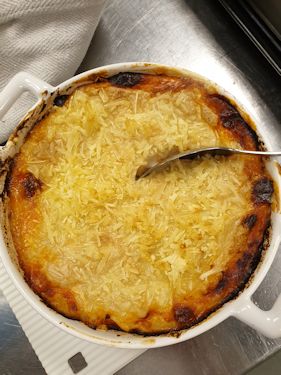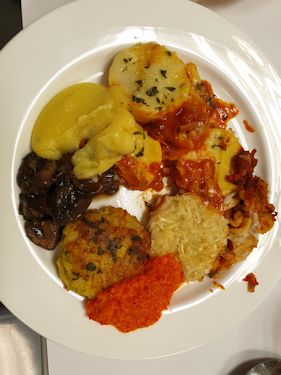 At the end of the cooking marathon, we all sat down together to enjoy the fruits of our labour accompanied by wine or soft drinks. What a treat! We all took a portion of each dish on one plate. All the dishes were delicious but my particular favourites were Macaroni Cheese, Chickpea Gnoccki, the fishcakes and the Polenta Based Pizza. For dessert, the Gluten Free Upside Down Cherry Cupcakes were delicious, the bitter taste of the cherries combining perfectly with the moist sponge.
Ray my husband was disappointed that I didn't bring anything home for him, so I will certainly be trying some of these dishes at home so he can enjoy them.
For further information, visit www.cookeryschool.co.uk
TOP TIPS
Taste everything as you go along using a teaspoon, never fingers!
The gluten free sponge only lasts one or two days, but you can freeze it
If you flatten a clove of garlic with your hand or a knife, peeling it is much easier
When doing the skewer test to see if a cake has cooked, keep it in for 10 seconds before extracting it
When cooking fish, use a teaspoon to check the thickest part is cooked