Interview with Marnie Searchwell Award winning 'free from' cake maker
Jackie Mitchell talks to Award winning cake maker Marnie Searchwell, winner of the Gold Award of the Tea Time category in the Free From Awards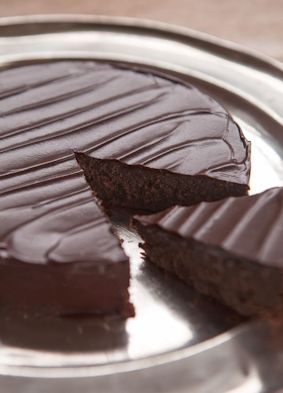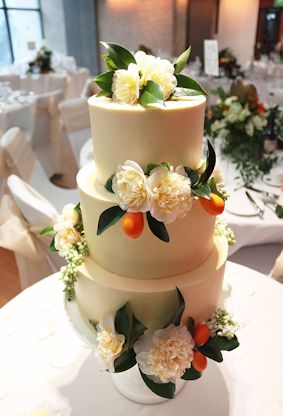 Reine de Saba, Chocolate & Olive Oil, Jamaica Fruit Cake, a three tier wedding cake beautifully iced and decorated with flowers. These are just some of the cakes from Award-winning baker Marnie Searchwell http://www.marniesearchwell.com. Incredibly they are all gluten free and in many cases, dairy free and Marnie also adapts recipes to accommodate other intolerances.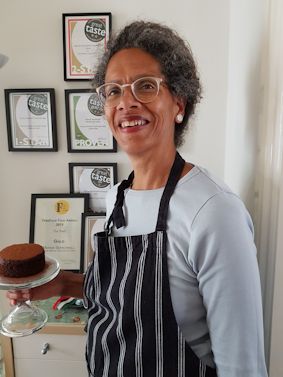 Most recently, her Vegan Mocha Chocolate Cake won Gold in the Tea Time category at the Free From Awards https://www.freefromfoodawards.co.uk/ The cake has a soft, moist sponge, made with Fairtrade organic cocoa powder and gluten free flours. It is filled and frosted with a vegan 'cream cheese' chocolate frosting made with organic dark chocolate and a spoonful of coffee. I sampled it at the Free From Awards presentation and it was truly scrumptious – so moist and flavoursome. As the judges said "Lovely gloss on the icing – fab to look at and super rich. Amazing for a vegan, egg free, milk free and gluten free cake. Great mocha flavour - a real treat."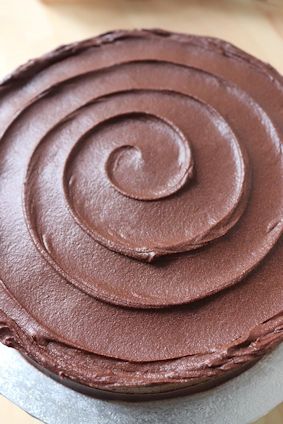 "I thought I was never going to win Gold," Marnie says modestly. "I was totally stunned."
Over the years, Marnie's cakes have won several Awards and when I visit her, I can see a wall with framed certificates. For example, six cakes have won a Great Taste Award https://greattasteawards.co.uk/ from the Guild of Fine Food https://gff.co.uk/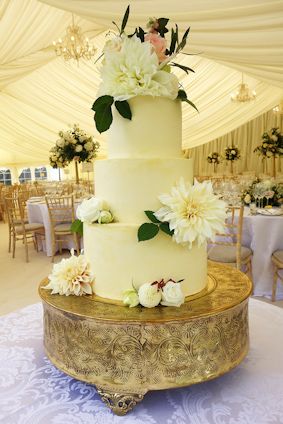 Marnie has created an array of 'free from' mouth-watering cakes made to order from the web site, but also makes bespoke cakes for special events including weddings. Today she is preparing for a wedding cake "tasting". This is part of the full wedding service when the couple visit Marnie to taste four or five different cakes and to decide on the design and decoration. It also includes delivery and assembly at the London venue.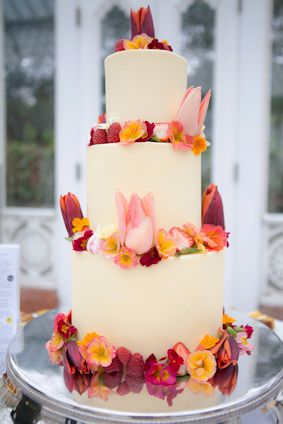 Couples can choose from gluten free, dairy free, vegan although Marnie caters for other allergies and intolerances. Customers telephone her with specific dietary requirements. "They'll ring up and say I can't eat this and this, so I find a recipe and adjust it," she says. "For example one customer's daughter had severe allergies – she couldn't have sugar, flour, dairy or baking powder but she could have ground almonds and bicarbonate of soda, so I spent time experimenting and testing and eventually made her a honey and orange birthday cake. I received a lovely letter thanking me and that makes my work very rewarding."
She also receives special requests – for example one vegan customer wanted bananas and peanut butter in their wedding cake and so Marnie obliged. One of the most unusual wedding cakes was a Pandan Chiffon Cake for a bride from Singapore, which was green in the middle, made using liquidised pandan leaves.
A major part of Marnie's success is her ability to experiment and develop recipes for people with allergies. For example, it took her ages to develop the right blend of gluten free flours. "I tried all sorts – hemp, quinoa, you name it – until I found a blend that works. I find a recipe, then adapt it and use a gluten free flour blend instead of wheat flour." One of her latest projects is experimenting with aquafaba – the liquid of chick peas. "I'm playing around with it – whipping it up to make meringues."
Icing is critical for Marnie's cakes. For Christmas cakes and iced wedding cakes, she uses Lübecker organic marzipan. This is lightly sweetened made with 52% organic almonds. For other cakes she may use Swiss meringue buttercream made with dairy free margarine.
For the fabulous floral cake decorations, Marnie uses organic edible flowers from Maddox Farm Organics https://maddocksfarmorganics.co.uk/
Delivery of the cakes is vitally important. "We can deliver within the M25, sometimes we have a rendezvous at a station or a customer collects the cake," Marnie says. "Some cakes with sugar paste can be posted. They are like my babies. I take lots of pictures of each cake I create. I can't bear saying goodbye to them and it's my job to ensure they arrive safely."
Trained as a graphic designer, Marnie worked in publishing and only baked in her spare time. Every March she had a birthday cake 'marathon' as her husband and two sons all have birthdays that month. She professes to be 'self-taught', although her mother was a baker and her father grew vegetables after retirement. "So there would always be a glut of something such as pumpkins so Mum would devise a recipe using the vegetables."
After the birth of her first son, she became a freelance graphic artist working for books and glossy women's and lifestyle magazines, continuing to bake in her spare time. After her second son was born in 1997, she started making Christmas cakes and selling them to friends, but never thought it would develop into a business. She doesn't have any food allergies herself, but for many years her husband was suffering from digestion problems. "When he omitted wheat and gluten, he noticed an improvement," she says, "so in 2000 I started making my first Christmas cakes without gluten or wheat, we became a gluten free and wheat free household and I started specialising in 'free from' cakes."
At that time, Marnie used to pick up her youngest son from primary school and cycle to Borough Market http://boroughmarket.org.uk to buy organic vegetables from a stallholder. They got chatting and she was offered a corner of the stall to sell 'free from' cakes on Saturdays for six weeks in the run up to Christmas. "This was a brilliant way to talk to people and get feedback," she says," and I sold enough to make it worthwhile."
It gave her all the encouragement she needed to have a professional web site designed "so I could do proper selling. Every time I created a new cake I put it on the web site and it just grew and grew."
Despite her success, Marnie has no desire to expand her business at the moment. "I want to stay a micro business. There's just me and my youngest son who does the deliveries," she says.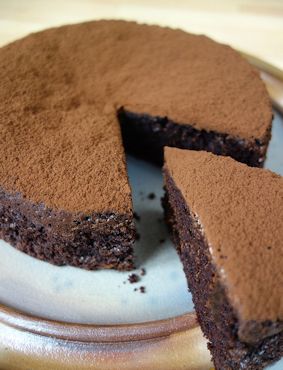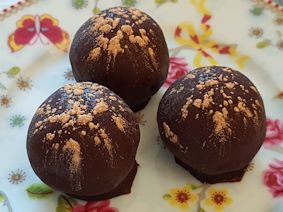 During my visit, I was lucky enough to taste some of Marnie's cakes, which were deliciously moist. This included the Jamaica fruit cake, the Luxury Ginger Cake and the Chocolate and Olive Oil cake. One of her newest creations are the yummy Reine de Saba truffles – inside each truffle is a piece of cake! I'm sure they will be available on the web site soon!
For orders and more information visit www.marniesearchwell.com
Picture credits: Marnie Searchwell, Hugh Kindred, Jamie Clark, Jackie Mitchell