Product Review: The Box Bakery gluten free bread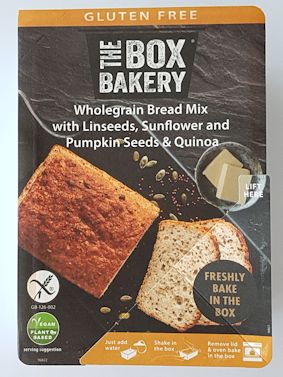 It is a constant struggle to find gluten free bread which not only tastes delicious, but also holds up well when toasted or made into sandwiches. Generally gluten free bread needs to be toasted to make it palatable which is difficult as it tends to crumble and fall apart. Even when toasted, most of it tastes like cardboard. This isn't the case with bread mixes from The Box Bakery www.theboxbakery.co.uk which you bake yourself! The breads are also dairy free and have been accredited by Coeliac UK www.coeliac.org.uk . There are two varieties – white bread mix with sunflower and linseeds and wholegrain bread mix with sunflower and linseeds.
The concept is simple – just add water, shake, mix the dough and bake in the box. I tried this at home. Here are a few tips: shake the box very well before you add the lukewarm water. When you mix the dough with a fork, make sure you mix thoroughly so that no white powder is visible – so right to the edges of the box, then brush with olive oil. I also added some chopped olives to the mix for a Mediterranean style bread, but this is optional. Otherwise just follow the instructions.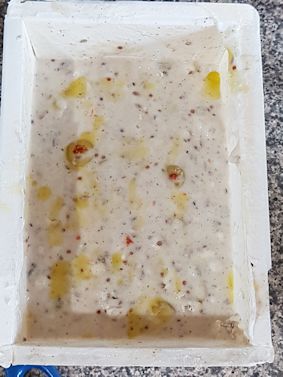 If the finished loaf comes out a bit pale, brush with olive oil and put in the oven for a few more minutes. Remove the bread from the box and place on a wire rack to cool down before enjoying!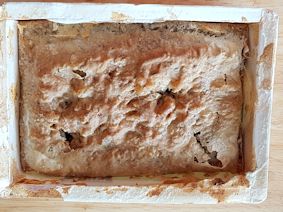 The bread has a wonderful texture and is absolutely delicious. It's moist and flavoursome, cuts well, holds together and can easily be toasted. Even Ray who normally won't eat gluten free bread, found it delicious.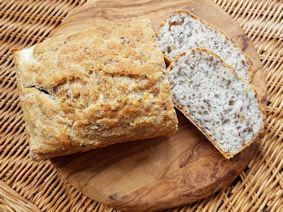 When toasted, the bread holds together and doesn't crumble in the toaster. It's a real treat to make a sandwich where the bread remains firm and doesn't fall apart. When some friends visited (who weren't gluten free) I gave them a choice between The Box Bakery bread and ordinary bread, but once they had tasted the gluten free bread, they preferred it!
Don't take my word for it. I asked two friends to try out the product:
Yasmine G doesn't have a gluten allergy and prefers gluten free bread. This is what she said "It's head and shoulders above all the other gluten free breads we've eaten and excellent value for money. It's easy and novel to make. The prevalence of the seeds and quinoa totally offsets the common blandness of most gluten free breads, also making the loaf highly nutritious. It tasted delicious, particularly good with my preferred topping of peanut butter on breakfast toast!"
Patrick Phelps, who is a coeliac, thought it was great to make a quick tasty loaf in the box without getting one's hands mucky – just a bit of vigorous fork activity needed. "The loaf turned out beautifully and the taste is very artisan – slightly nutty with just the right amount of seeds. It's a great idea, great taste with simple instructions and no mess," he says.
Classic Chocolate Cake Mix
I asked Patrick to review The Box Bakery's Classic Chocolate Cake, which is gluten free, but not dairy free as it contains whey powder and milk protein. (Ray hopes the company develops a dairy free version!)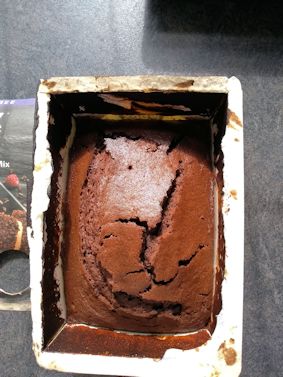 Similar to the bread mix, the cake mix was easy to make and no other ingredients apart from milk or water were needed. The instructions were clear and simple and the oven temperature and timings spot on. "You could make it without getting your hands dirty and the only item of equipment needed was a fork!" says Patrick. "Crucially no washing up either! A neat idea and I would recommend gluten freebies to have a box in the cupboard at all times so you could whip up a cake at short notice. Personally I would have liked the cake to taste more chocolatey – this may be because I used a 50% milk/water mix. Perhaps there could be some guidance on the box as to the taste implications of milk versus water. The box does suggest icing on the top which is an option, but then you would need extra ingredients/bowls etc.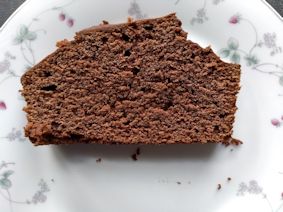 "Overall, this is a fabulous product which should do well."
How To Buy
You can buy a mixed case direct from the web site at £21.55 comprising five products – two bread mixes of each variety and one gluten free chocolate cake mix (this isn't dairy free).
Alternatively five gluten free Wholegrain Bread Mixes or five gluten free White Bread Mixes, at £21.55 each.
For more information, visit www.theboxbakery.co.uk
Chocolate cake pictures by Patrick Phelps