Review: Park's Edge Bar and Kitchen, Herne Hill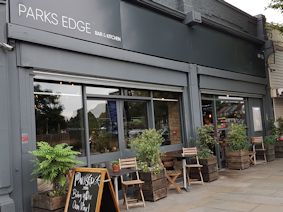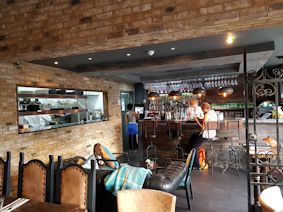 Cuisine with a Caribbean twist sums up the menu at Park's Edge Bar and Kitchen, https://parksedgebarandkitchen.com in Norwood Road, Herne Hill, opposite Brockwell Park and conveniently located near Herne Hill station.
A welcoming cocktail bar greets you on arrival, offering an extensive cocktail list, as well as a rum collection, a gin and vodka menu and beers, cider and soft drinks. Ray & I chose non-alcoholic mocktails – well, it was a week night.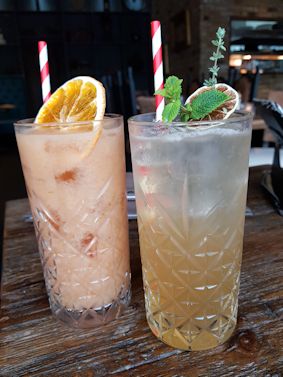 Ray's Energiser mocktail, as the name suggests, is an uplifting experience – a mixture of fresh mint, elderflower, thyme, honey, green apple juice and soda. My cocktail "Melonocious" was a creamy, cooling concoction of mango puree, watermelon juice, coconut syrup, lime juice and home-made pear puree. Both drinks were beautifully served in tall glasses with paper straws and fruit decoration.
The decor is eclectic with a variety of seating from turquoise sofas to wooden chair, but it all blends in. The open kitchen is a nice touch, enabling you to watch the chefs behind the scenes, but it's not too intrusive. Laid back music contributes to the relaxed atmosphere – again the music collection is varied from crooners, South American to pop. It's not too loud so you can enjoy a conversation, which is great news.
The menu carries a VG symbol for the vegan dishes on the menu, although Haiki Berhane, the front of house manager, talks us through which dishes will be suitable for me (gluten free) and for Ray (dairy free). For my sea bass dish, the bulgur wheat will be replaced by spiced wild rice and for Ray's lamb dish, the mint yogurt will be omitted. Happily we can both eat the Sweet Potato Fries as a side.
Usefully the chef has given English wine pairing recommendations at the top of the menu, but we're enjoying our mocktails too much to order any wine!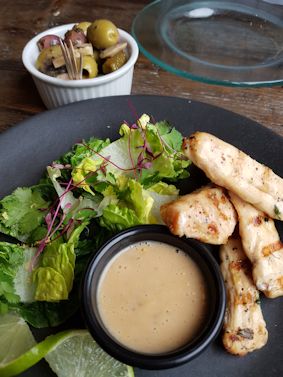 To start with, we order some mixed marinated olives, garlic and herbs (£2.50) which are yummy and share the Grilled Spicy Chicken, Caribbean Peanut Satay Sauce, Lime and Coriander (£7.50). The satay is succulent, not too highly spiced and combines well with the crunchy green salad and the sauce, which isn't too hot in flavour. You may have guessed we don't like our food too spicy – Ray has already asked for the chef to go easy on the harissa!
Our main courses are beautifully presented. My choice is Torched Tandoori Sea Bass with spiced wild rice and pomegranate 'Grenade" and Apple Cardamom sauce (£17.95). Normally fish can be bland, but not this dish as the flavour is greatly enhanced by the spicy coating and the crunchiness of the pomegranates add to the texture of the rice. The apple cardamom sauce is fruity with a kick to it and works well with the fish.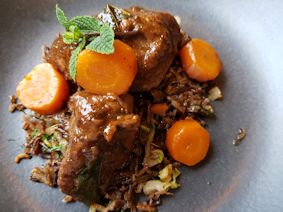 Ray's meal is Slow Roasted shoulder of Lamb and Marissa Spiced Wild Rice (£19.50). The lamb melts in your mouth as it's so tender (he invited me to try some!) and the harissa spiced wild rice is an explosion of flavours. We were impressed by Tommy Rakoczi's (the chef) creative way of serving rice by adding herbs and spiced, chopped coriander and pomegranate seeds.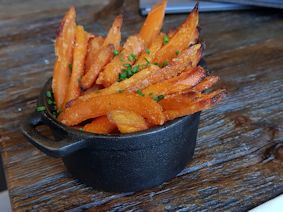 The sweet potato fries (£4.40) are tasty and moreish – they are so moist, unlike some I have tasted which can be overcooked.
We generally don't bother ordering desserts because there is usually nothing we can eat – if Ray is lucky, there may be a frozen tasteless sorbet available, but at Park's Edge Bar & Kitchen we had a choice of gluten free and dairy free desserts! The Caramelised Banana and Pineapple Crumble is both dairy and gluten free, while the Eton Mess is gluten free.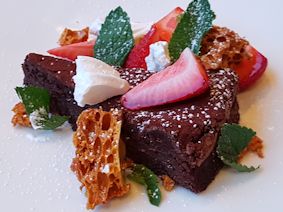 We opted to share a slice of the gluten free, dairy free chocolate and lime cake (£6) (it does contain eggs). As Ray said "It's so rare there is any cake I can eat." Again, this was creatively presented on a plate with pieces of strawberry, cinder toffee, meringue, mint leaves and a sprinkling of icing sugar – almost too good to eat! Gluten free cakes tend to be dry and crumbly, but not this cake. It was moist with a real chocolatey taste.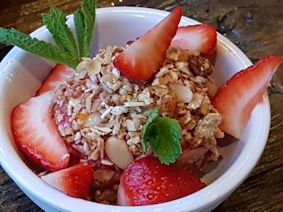 One of the highlights was the Sorrel Sorbet rolled in home-made granola (£3 per scoop) (gluten free) and served with strawberry pieces. The sorbet has an amazing rich red colour, made from Baldwin's Hibiscus (Jamaican sorrel). It is refreshing and minty with a hint of sorrel. The granola adds to the texture and gives it a crunchy mouthfeel. Very delicious.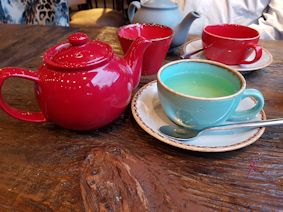 Finally we enjoyed a fresh mint tea, served in cheerful, colourful cups and saucers. It was a treat to visit Park's Edge Bar & Kitchen, where the staff were so friendly and eager to accommodate our dietary requirements.
The low down
Park's Edge Bar & Kitchen, 51 Norwood Road, Herne Hill, London SE24 9AA https://parksedgebarandkitchen.com/