Review: The Allergy & Free From Show 2019
Gluten free bread baked in a box, vegan bacon, dairy free milk made from yellow peas, popped chickpea crisps (gluten free, egg free, peanut free). These were just some of the 'free from' discoveries I found at this year's Allergy & Free From Show at London's Olympia https://www.allergyshow.co.uk/london/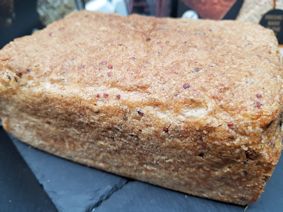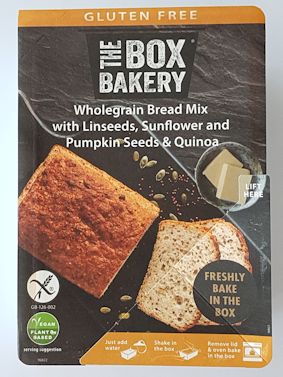 Finding gluten free bread that is moist, tasty and holds together is a real challenge. Generally gluten free bread needs to be toasted to make it palatable which is difficult as it tends to crumble and fall apart. Even when toasted, most of it tastes like cardboard. This isn't the case with bread mixes from The Box Bakery www.theboxbakery.co.uk which you bake yourself! The breads are also dairy free and have been accredited by Coeliac UK www.coeliac.org.uk . There are two varieties – white bread mix with sunflower and linseeds and wholegrain bread mix with sunflower and linseeds. The concept is simple – just add water, shake and bake in the box. I tried this at home, the bread has a wonderful texture and is absolutely delicious. It's moist and flavoursome, cuts well, holds together and can easily be toasted. Even Ray who normally won't eat gluten free bread, found it delicious. You can buy a mixed case at £21.55 comprising five products – two bread mixes of each variety and one gluten free chocolate cake mix (this isn't dairy free).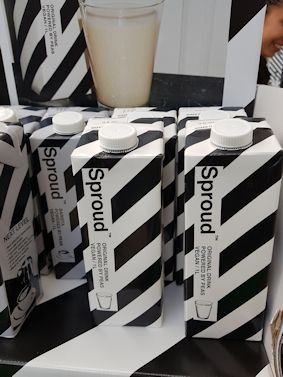 Sproud www.sproud.co.uk is a new plant-based vegan milk made of protein from dry yellow peas. Made in Sweden, it's dairy free, gluten free and soy free. I found it refreshing and creamy. There's also a barista version, which makes a more robust foam for speciality coffees. Available from Waitrose https://www.waitrose.com/ Planet Organic www.planetorganic.com and Amazon www.amazon.co.uk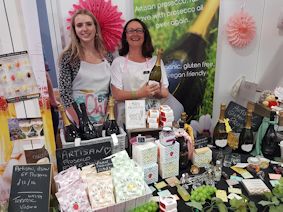 It was good to see Corine Sellers, founder of Princess Prosecco www.princessprosecco.co.uk at the show; I've interviewed her on the business programme on Brooklands Radio www.brooklandsradio.co.uk The complete range of Princess P vegan prosecco was on display including vegan black premium prosecco from Treviso, Italy. The bouquet is delicately fruity and floral with notes of apple, wisteria and acacia flowers.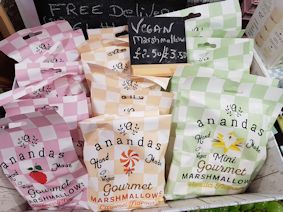 Corine was also exhibiting other "free from" goodies such as vegan marshmallows by Ananda www.anandafoods.co.uk , as her company also supplies gift boxes.
As you can imagine, the stand attracted visitors eager to sample the vegan prosecco!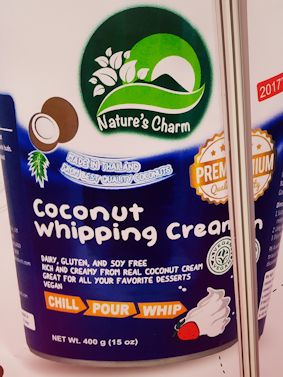 Finding a dairy free cream which can be whisked into a proper whipping cream, which holds up, is a big challenge. We've never managed to find one, so it was great to discover condensed coconut whipping cream from Nature's Charm www.naturecharmveganproducts.com confusingly on the Wing Yip www.wingyip.com stand. Unfortunately I was unable to try the product, so I hope I can buy one and test it. Watch this space. Another discovery by the same supplier is Sweetened Condensed Coconut Milk, which they claim is the first commercially introduced coconut milk. I was able to try a tiny amount of this and it was delicious. Both products are available from Wholefoods https://www.wholefoodsmarket.co.uk/ - I also found them on Amazon www.amazon.co.uk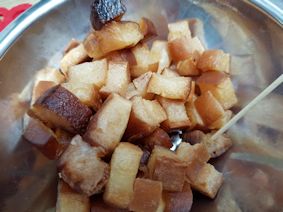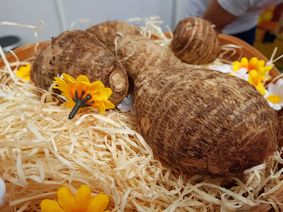 And now for something completely different – vegan bacon from Naturinni www.naturrini.com made from "edoes" a Brazilian potato-like vegetable, salted (using Himalayan salt) and then smoked. I found it tasty and moreish. The company is looking for distribution outlets in the UK.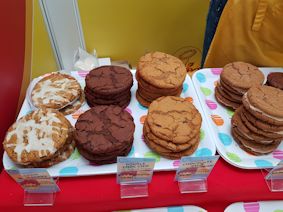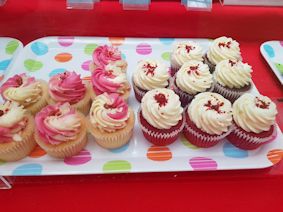 "Free from" cakes were very much in evidence throughout the exhibition. Ms Cupcake www.mscupcake.co.uk displayed a fabulous range of vegan goodies, some of which were gluten free. Her luscious cupcakes included Red Velvet and Strawberry n' Cream – very Wimbledon. Stacks of inviting Vegan Cookie Sandwiches were also on offer.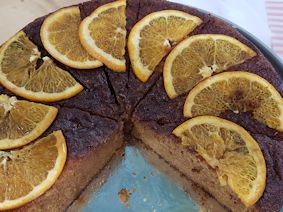 The array of 'free from' Bad Ass Cakes www.badasscakes.co.uk included the vegan and gluten free Jamaican Rum Cake – it looked divine!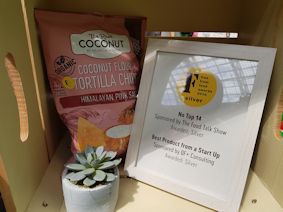 The Free From Awards logo https://www.freefromfoodawards.co.uk/ could be seen on stands all over the show indicating that the companies were Award winners. It was good to see this accolade on The Real Coconut stand https://www.therealcoconut.com/ which produces gluten free, dairy free, and refined sugar free snacks. The stand was very busy, but I managed to sample the coconut flour tortilla chips – delicious!
It was good to catch up with Cressida from the Free From Awards on their stand showcasing the UK's only industry awards for free from food. These were started in 2008 by FoodsMatter and FreeFrom Foods Matter to encourage innovation and celebrate excellence in the free from food industry. The Awards are entirely independent, supported by sponsorship and entry fees only. Watch out for the logo on free from items. The logo or mark is awarded for excellence in the creation of 'free from' food e.g. food that is free of gluten, dairy, nuts or any other of the 14 major food allergens. For more information, visit www.freefromawards.co.uk
There was masses to see and do at the show including seminars and cookery demonstrations. I'm already looking forward to the next Allergy & Free From Show in Liverpool on Saturday 2nd and Sunday 3rd November. https://www.allergyshow.co.uk/liverpool
See you there!