"Virtual" Free From Awards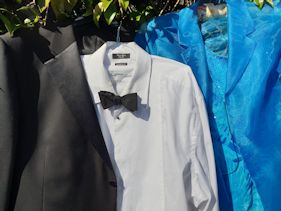 What do you wear to a "virtual" Awards ceremony? When we received the delightful invitation to the first ever "virtual" Free From Awards www.freefromfoodawards.co.uk ceremony, we decided to pull out all the stops and wear evening dress. Why not? It was great fun dressing up and making an effort after weeks of wearing our usual lockdown attire of T-shirts and jeans! Applying makeup was problematic – well, you forget how to do it, don't you? Ray didn't have such issues.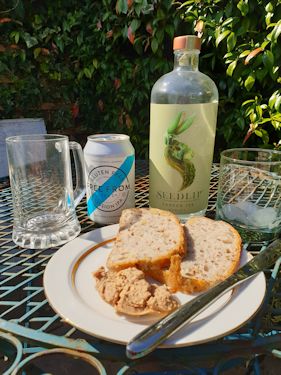 We also needed to decide what to eat and drink while watching the Awards ceremony on video on the Free From Awards web site. We opted for home-made gluten free and dairy free Lockdown Fish Pate with gluten free bread from The Box Bakery https://theboxbakery.co.uk/. This was accompanied by gluten free beer from Free From Beer Co https://freefrombeerco.com/ and Seedlip www.seedlipdrinks.com non-alcoholic spirit with tonic water. That's right, we were keeping clear heads so we could concentrate on the results of the Awards.
Zooming up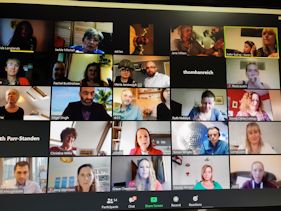 Congratulations to Cressida Langlands and Michelle Berriedale-Johnson for organising such a slick, entertaining evening. First up at 7pm I joined the Zoom meeting and it was marvellous to see everyone at a glance in gallery view. Cressida then arranged for everyone to enter "break out" rooms where we could chat with three or four other people. It was great to "virtually" meet Nigel Singh from Free From Italy www.freefromitaly.co.uk , Colin and Shamtin from Booja Booja www.boojabooja.com who won last year's overall winner. I also got chatting to Stewart Russell from The Meatless Farm www.themeatlessfarm.com and Maria Jenowyck from Planet Kuku https://planetkuku.com/, all of whom were up for Awards. After the presentation, we then returned to Zoom www.zoom.us .
The Presentation – who won?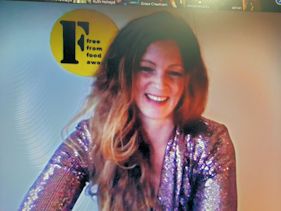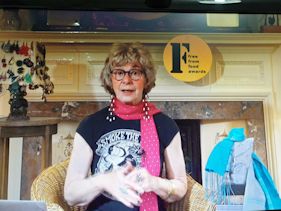 At 7.30pm Cressida ushered us to the video of the Awards ceremony which took place on the Free From Awards web site. Michelle greeted us from her sitting room wearing her beautiful 'trademark' ear-rings.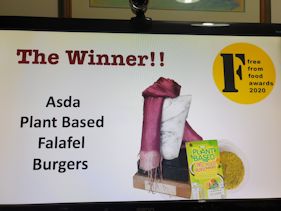 Out of the 553 products which were entered into the Awards (up by 10% compared to last year), supermarket chain Asda www.asda.com won the overall Product of the Year for its gluten free and vegan "Plant Based Sweet Potato Falafel Burgers". Can't wait to try them! They are described as "blended with spinach, red onions and tingling kick of jalapeno peppers". This was the first time a supermarket scooped the "Marble Mo" Free From Food Awards trophy.
The judges commented "Great ingredients, nutritional profile and fibre levels. Lovely, moist, full of flavour, really hearty, and fantastic range of vegetables." The product also won "Gold" in the Vegan Snacks and Meal Ideas category.
This year a total of seven supermarkets entered the Awards, which shows a greater engagement in the free from sector by the major retailers. As Michelle said "A vibrant independent sector is crucial to drive innovation in free from. But, the last month has shown us that we really are a nation of supermarket shoppers and if we want to get free from foods to the greatest number of people, we have to do it through the supermarkets.'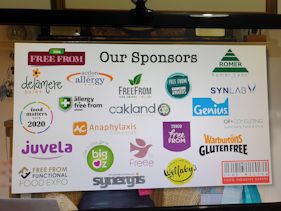 Michelle paid tribute to the wide variety of sponsors of the Awards which include Delamere Dairy www.delameredairy.co.uk , Tesco Free From www.tesco.com , Asda Free From, The Allergy and Free From Show www.allergyshow.co.uk and Warburtons Gluten Free www.warburtonsglutenfree.com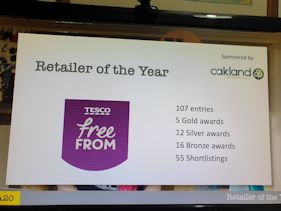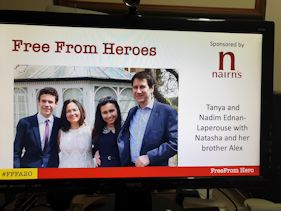 Tesco once again won Retailer of the Year and the FreeFrom Heroes for 2020 were the Ednan-Laperouse family and Natasha's Allergy Research Foundation https://www.narf.org.uk/ for their tireless campaigning on behalf of those with serious food allergies.
Although entrants included 143 medium and large companies, there were also 57 micro companies employing under three people. Out of these, 35% were new to the Awards.
Gold Winners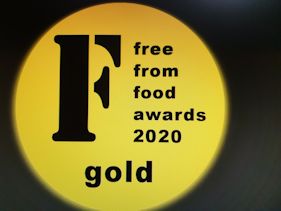 Asda were among over 40 gold award winners this year which included The Venice Bakery, The Box Bakery, Liberate and Creative Nature.
For the full list of winners, visit the web site www.freefromfoodawards.co.uk Here are some of the highlights: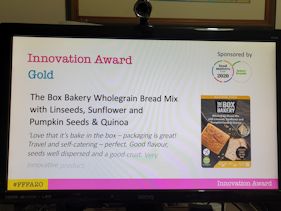 In the Innovation category, it was rewarding to find out that The Box Bakery https://theboxbakery.co.uk/ scooped one of the Gold Awards for its gluten free and dairy free Wholegrain Bread Mix with Linseeds, Sunflower and Pumpkin Seeds & Quinoa – the very bread we ate with our pate! Generally gluten free bread needs to be toasted to make it palatable, but this isn't the case with The Box Bakery bread. It's great fun too as you bake it yourself! The ingredients come in a cardboard box. All you do is just add water, shake, mix the dough and bake in the box. I'm so pleased I stocked up before the lockdown; it also means I don't have to worry about bread going stale.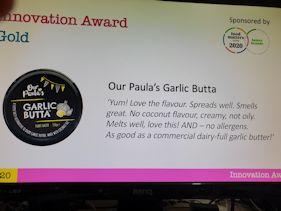 Our Paula's Garlic Butta http://www.my-testserver.co.uk/veganbutta/also won a Gold Award in this category. This is a herby plant based vegan garlic butta, which can also be used for melting on mushrooms or new potatoes or for spreading on toasted ciabatta. Packaged in a small, recyclable glass pots with no plastic in sight. The judges described it "as good as a commercial dairy-full garlic butter." One of the judges I spoke with on Zoom after the presentation raved about it, so I must definitely give this a try! I'd love to know who Paula is – I guess she must have created it.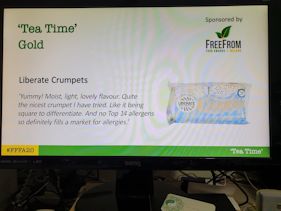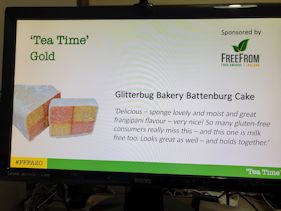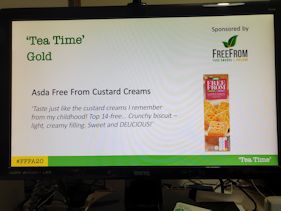 A new entrant in the Awards was Australian company Liberate Crumpets https://liberatefoods.com.au/ with its unusual square-shaped crumpets, which are gluten free and dairy free. These picked up a Gold Award in the Tea Time category. The judges said "Yummy! Moist, light lovely flavour. Quite the nicest crumpet I have tried. Like it being square to differentiate. And no Top 14 allergents so definitely fills a market for allergies." Can't wait to try these either. Other Gold winners in this category was the Glitterbug Bakery Battenburg Cake https://glitterbugbakery.co.uk/product/battenburg-cake/ and Asda Free From Custard Creams. They sound delicious too.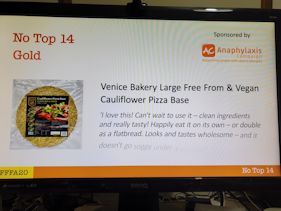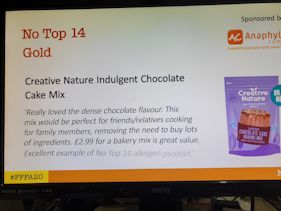 I've always been a fan of The Venice Bakery www.venicebakery.co delicious gluten free and vegan pizza bases, discovering them at The Allergy Free From Show. I had given up eating pizza until I tasted the samples they were offering on their exhibition stand. I was pleased that the company won a Gold Award in the No Top 14, for its Large Free From & Vegan Cauliflower Pizza Base. This is something I will have to try and soon! This "No Top 14" category is for products that don't contain the top 14 allergens. The other Gold winner was Creative Nature https://www.creativenaturesuperfoods.co.uk/ Indulgent Chocolate Cake Mix. I have actually baked this cake and it was yummy!
Booja-Booja www.boojabooja.com scooped Gold in the Free From Gifts for its "The Award-Winning Selection" a box of 16 dairy free, gluten free, soya free and vegan chocolates such as Rhubarb and Vanilla Fool. The judges said "Fabulous. Rich and creamy smooth. Obviously a quality product! The hazelnut truffle particularly stands out. Absolutely delicious - pure." Another product to try though I won't wait for someone to give it to me as a gift.
The other Gold winner in this category was M&S www.marksandspencer.com with its "Made Without Dairy Chocolate Box." I was surprised by this as when I go in their stories (before lockdown) I could never find any dairy free items, especially in the sandwich department, but perhaps things are changing!
Congratulations to all the winners of this year's Free From Awards, the sponsors and of course Michelle and Cressida, who organised them.
Where to Buy
If you fancy buying any of the products, the web site has a link to show you where. Just visit www.freefromfoodawards.co.uk